Tessa Brown to Spend Year in Belgium as Part of the Rotary International Exchange Program
By Angel Owens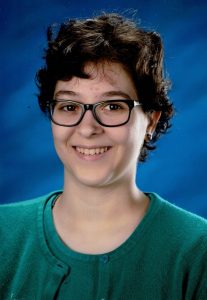 Soon after Tessa Brown graduates from Salisbury High this June, she'll embark on an entirely different kind of educational journey: in Belgium.
This past winter, Tessa learned that she had been accepted into the Rotary International Exchange Program, a prestigious program that gathers students from around the world to explore a life of global engagement.
Program participants are all 15-19 years of age.
Over the course of the year, Tessa will live with three different host families and attend school. All classes will be conducted in French.
Having been a student of French since the 5th grade, Tessa looks forward to the opportunity to improve her fluency.
"I read and write well, but I am a little nervous about comprehending the spoken language, just because of the adjustment to the accent and the speed of people who speak it fluently."
Tessa hasn't decided on plans for college yet, but says she has considered studying foreign languages. The exchange program will be a great way to help her discern if that is what she would like to study.
During her year in Belgium, Tessa says she looks forward to experiencing European food, architecture, and the language, "I'm really interested in the language and culture, so this is a really great way to experience it on a deeper level."
Tessa doesn't yet know what city she'll be assigned to, but she has some cities in mind that she would like to visit. At the top of her list is Paris, France.
Acceptance into the Rotary International Exchange Program includes a scholarship that covers room and board, and school fees. Travel and other living expenses are the responsibility of the participant. If you'd like to help offset the remaining costs, a Go-Fund-Me has been set up for Tessa. Visit https://www.gofundme.com/f/help-me-go-on-a-rotary-youth-exchange.
Tessa is the daughter of Davis and Annette Brown. Her siblings are Gemma, a rising sophomore at Catawba, and Walker, a rising senior at NC State.