Debbie Martin to be Commissioned as a Certified Lay Preacher, Sunday, May 26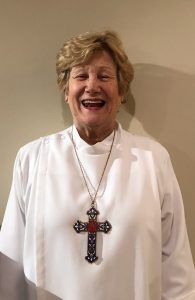 By Susan Shinn Turner
Debbie Martin always wondered why her husband, after preaching for decades, still labored over wrapping up his sermons every Saturday night, polishing and practicing.
Now she knows.
On May 26, Debbie will be commissioned at St. John's as a certified lay preacher through the N.C. Synod. Her cohort of 14 will be commissioned May 30 before Synod Assembly in Greensboro.
Last spring, Debbie says, the Synod initiated the Lay Preaching Certification Program as a creative way to address a shortage of supply pastors in North Carolina. The group attended two three-day retreats — one on interpreting scripture and one on sermon writing — and met monthly in small groups. Instructors included Bishop Tim Smith; The Rev. Dr. Mark Fitzsimmons, pastor to the LTSS community; The Rev. Danielle DeNise, director of evangelical mission for ELCA; and the Rev. Sara Ilderton, the bishop's assistant for candidacy.
Debbie had preached at the Synod Council worship service in December 2017. Afterward, Pastor Danielle came into her office at Synod Headquarters — Debbie works for Lutheran Men in Mission two days a week — and asked her to consider applying for the lay preaching program.
"During that sermon, I sat there and thought, 'This woman was called to proclaim,'" Pastor Danielle says. "I had wondered how David's death would change her. She walked through the most difficult part of her life and discovered that God wasn't through with her."
"At first I was a little stunned and a little scared," says Debbie, who is 69. "It just seemed like a lot for my mature place in life."
But she couldn't resist.
When meeting with Bishop Smith on May 30, the cohort members will find out if they're going to be deployed or supply in their home congregations. Debbie says if she is deployed, a 50-mile radius from her Salisbury home seems reasonable.
"It's a wonderful feeling," she says. "It is a combination of excitement and anxiousness all rolled into one. It's a chance to articulate your faith into what you believe. As Martin Luther said, 'Here I stand, I can do no other.' You are trying to remove distractions and be open to the Holy Spirit. You are looking at the Gospel, and the message that needs to be shared."
Thus far, Debbie has preached twice at St. John's during the Wednesday evening Lenten series, and preached at Sardis Lutheran, where her daughter, Adrienne, is pastor, on March 17. She invited five of her closest cousins to attend, and they all came, she says.
"I am excited for her," Adrienne says. "She was sensing that something was urging her to do it. She has always been supportive of Dad and me. Church is meaningful for her, and she sees this as a way to help. I think Dad would be pleased and proud she has taken this initiative."
Debbie agrees, and she says David would likely be gratified to know that she now understands why he worked so hard on all those sermons.
Others have also sensed a call to the program, leading the Synod to begin a second cohort, with a waiting list for a third.
Others being commissioned as lay preachers include: Ned Thigpen, Macedonia, Burlington; Heidi Gibson, Trinity, Sanford; Brad Alexander, Redeemer, Gastonia; Katie Rivers, St. Mark's, Asheville; Karyn Dalton, Mt. Hermon, Concord; Vicki Carlson, St. Peter's, Southport; Daniel Robinson, Lebanon, Cleveland; Celeste Thick, Mt. Pisgah, Hickory; Mary Costner, Ascension, Shelby; Kathe Schwab, Christ the King, Cary; Chris Bass, Mt. Olive, Hickory; Nathan Sliwa, Christ the King, Cary; and Victor Parrish, The Arbor, Lexington.