Christian Terry Publishes Book on Homelessness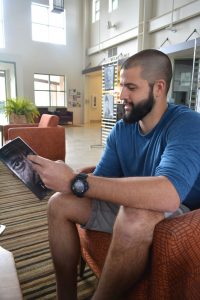 By Susan Shinn Turner
Christian Terry's motive for writing a book was simple: He saw a problem and he wanted to fix it.
The problem is homelessness, and he and his fiancé, Daysja Phillips, decided to write a book that would not only tell stories of unsheltered people, but would address the complicated nature of homelessness as well.
"Words That Hit Home" was published in 2017, and proceeds from the book will benefit finding a long-term solution to preventing homelessness.
Christian, 25, and Daysja, 23, met as undergraduate students at UNCW, where he is now a doctoral student in clinical psychology, and she is a master's student in the social work program.
The two decided they wanted to interview homeless people, and share their stories. Growing up at St. John's, Christian — the son of Glenn and Rebecca Terry — often volunteered at Rowan Helping Ministries. Christian has two older brothers, Andrew Shearin and Zach Terry.
"People have stereotypes and stigmas associated with homelessness," Christian explains. "We wanted to do something to change people's minds."
They interviewed 20 homeless people. Additionally, they interviewed Kyna Grubb, executive director of RHM, and six others who work with the homeless population. They interviewed guests at RHM, and the City of Refuge in Atlanta, along with the unsheltered homeless in Wilmington and Pittsburgh. The whole process took about four years.
They wanted to know who's homeless and why, and they discovered some trends.
"Most of the people in this book had very bad childhoods," Christian says. Many also have substance use disorder.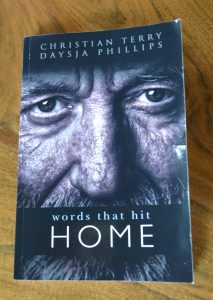 There's also a lot of judgment about the homeless, he says. "People have this basic preconception, an implicit bias. But we haven't seen that person's life and what they went through."
Christian is in the second year of a five-year doctoral program. He'll receive a doctorate in clinical psychology with a concentration in co-occurring substance use and mental health disorders.
"I want to play a role in how we predict people who are likely to have substance use disorders," he says.
Christian, a graduate of Salisbury High School, says, "I was very fortunate to have super loving parents who kept me from going down a path others may go. I had to change some friends who did not go down the right path. It was hard to leave, but a lot of people do not have that guidance. I still see those friends, and their path is not great."
Away from school, Christian loves traveling and an "adventure-oriented" life that includes surfing, mountain biking, hunting and fishing. After a few days in Salisbury for spring break, he was headed to Linville to backpack for a couple of nights. Christian and Daysja plan to marry in May 2020 in Wilmington.
You can purchase "Words That Hit Home" from amazon ($19.99 paperback, $9.99 Kindle). You may also visit their Web site, wordsthathithome.org.