Hey kids: Sign up now for Summer Camps!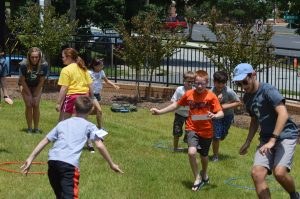 By Angel Owens
Now is the time to sign up for Summer Camps at St. John's and our Lutheran Partners!
During the Summer, we take a break from our Wednesday programming, but that doesn't mean there aren't plenty of Christ-centered, fun activities for our Kingdom Kids!
This Summer, we are offering 3 different individual day camp opportunities at St. John's for elementary-aged children.
Vacation Bible School is earlier in the summer this year, now June 17-21, 9 am – 12 pm, and as always, VBS is FREE and open to the community. 3-year olds to rising 5th graders are invited to join us for an epic African Safari Adventure. At "Roar!", our herd of kids will explore God's goodness and celebrate a ferocious faith that powers them through this wild life. Get ready for songs, games, drama, science experiments, and more!
Hands and Feet Camp is a service-based camp for St. John's rising 3rd –5th graders, July 8-11, led by high school students. Space is limited to 20 students, so register now! 
All Things Bright and Beautiful is a FREE music and arts camp  July 29– Aug. 2, 9 am– 12 pm, for rising Kindergarten through 5th graders.  This camp is open to the community and has a limited number of spaces, so register now!
Some of a child's earliest memories of faith formation and involvement in church ministry— engaging in worship and music, service, and fun— can happen at summer camp and VBS.
When Caroline Parrott helped lead Hands and Feet Camp back in 2015, a parent shared that her son felt the same way, "My son told me yesterday that he felt like he was now becoming a part of the church. It's ironic that it took this Hands and Feet camp to make an impression like that. After all we've been taking him to church since he was 2."
It's also not too late to sign up for camp at NovusWay locations, like Lutheridge and Lutherock, or Camp Agapé.  There are options for all age groups and families.
After May 1, a late registration rate applies.
Lutheridge Camp options include, Music Camp, Hammock Hangout, Rock & Raft, High in th Sky, Nite Owls, Cave & Wave, Canoe Camp, A.T. Trek, Grandparents CampPony Express, and much more.
Agapé Camps include Night Owls, Beach Camp, Surf Camp, Horse Camp, Classic!, Prime!, Moonlight, SIT Servants, Nature Discovery, Grand Camp, and more!
Visit www.novusway.org, agapekurebeach.org, or check out the booklets in the track racks.