Men's Chorus Spring Concert is May 5, 3 pm: "Wonder, Love and Praise"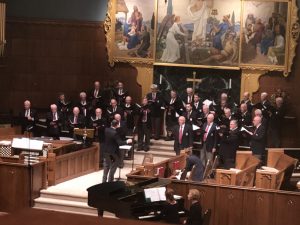 By Susan Shinn Turner
Jason Harwood was trying to plan the theme for the Men's Chorus Spring Concert, and, to be honest, it just wasn't happening. Then he had a revelation: why not ask the experts?
The experts, in this case, were the members of the Men's Chorus.
"I leaned on them a lot," admits Jason, who's led the group since September 2017. Since he is still getting to know the guys on a personal level, he asked the question, "What music have you done that speaks to you?"
Of course, he got a lot of answers — more than he could use for the concert. But together, they nailed down the list, and this year's concert is set for 3 pm Sunday, May 5, in the Sanctuary.
You'll notice a slightly earlier start time, Jason notes. That's because of another concert happening the same day at First Methodist Church, and the chorus is trying to be a good downtown church neighbor.
The St. John's concert will be themed "Wonder, Love and Praise," Jason says. "We're doing a bunch of well-known and well-loved hymns. The concert is centered around the idea of giving praise through song."
And the concert will feature selections that have been meaningful to the men over the years, Jason says.  "When singing Love Divine, All Loves Excelling, I've often wondered, what would it feel like to be lost in wonder, love and praise?"
The men will explore that possibility in May — as will the congregation since Love Divine, All Loves Excelling will be a congregational hymn.
Jason says the men will sing a wide range of songs, such as traditional selections Come Thou Font, Amazing Grace and It Is Well With My Soul, along with Precious Lord, which has more of a gospel feel.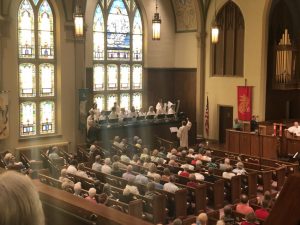 For the concert opener, Jason says, "We're doing a brand-new piece called Silence of the Stones." It's based on scripture often used on Palm Sunday in Luke 19:40 where Jesus says of the crowd, "I tell you, if these were silent, the stones would shout out."
"We have to do our part," Jason says. "We have to sing praise to silence the stones."
The men, Jason says, "have fond memories of singing together. I love that this ministry is so meaningful for them."
The concert will also feature the St. John's Handbell Ensemble, and more instrumentalists than usual, including Rob Durocher, organ; Davis Brown, synthesizer and percussion; Rosemary Kinard, flute; Amber Norris, clarinet; and a full brass quartet. Janie Rollins continues to serve as the group's longtime accompanist.
The concert will benefit Prevent Child Abuse Rowan.
As always, Jason never hesitates to sing praises about the chorus.
"The group sounds really good. We have a lot of new people. The core sound is really good, and they are even impressed with themselves!"