Youth Auction is March 31: This year's goal is $18,000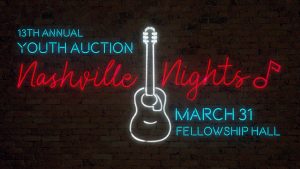 By Susan Shinn Turner
"Flexibility is key to the game."
That's the note Youth Minister Kai Thurow has attached to his printer. It's a good thing.
Kai has definitely had to be flexible when planning this year's youth auction, set for Sunday, March 31, beginning at 4:30 pm.
He notes that another major community fundraiser was scheduled for the Auction's original date, leading him to choose a Sunday evening. "We didn't want to appear to be in competition with them, and there are no more Saturdays available until June, which is a little late to be fundraising for a summer mission trip."
Add to that the fact that Rowan-Salisbury Schools moved the start date of school to Aug. 7 — after the date for the Nashville mission trip had already been set. So Kai will be taking a slightly smaller group July 28-Aug. 2, with 27 high school youth and six adults.
The focus of the youth auction has also changed this year, Kai notes.
As the cost for mission trips and retreats continues to rise, some families are stretched to participate, especially if they have two or more youth involved. "We believe in the transformational power of these trips and retreats," Kai notes, "so we don't want finances to be a reason our youth can't attend."
With that in mind, the auction will raise funds for all off-site events, with a priority given to the summer mission trip.
Kai hopes to raise $18,000 at the Auction, similar to that of years past. With fewer youth attending this summer's mission trip, there hopefully will be more funds to supplement other events.
There are plans for a separate fund-raiser for the middle-school youth who will attend the annual WOW mission trip in Knoxville this July.
The Auction. Since the high school youth will be going to Nashville, the theme for this year's auction is "Nashville Nights." The evening will include a sampling of country music, as well as some new genres that are popping in this self-proclaimed music capital of the world.
Bidding for the silent auction begins at 4:30 pm. The meal will be served at 5, with the evening's menu reflecting the theme. The live auction begins after dinner. Tickets are $15 for adults and $5 for children 12 and under.
"Our goal is to be done by 8:30 pm since it's a school night and the beginning of a work week," Kai notes.
The Mission Trip. At last summer's National Youth Gathering (NYG) in Houston, Kai learned about Serve Boldly, a Lutheran-based organization that organizes domestic mission trips all over the country.
"They're all about teaching our Lutheran teens to accompany and serve alongside our neighbors," Kai says. "It's about understanding the needs of the community and participating in a sustainable way. We want to provide a deeper experience for our youth. Doing so through the Lutheran lens is a cherry on top."
Serve Boldly's first mission work was in Nashville in 2011, and now there are trips offered in cities such as Milwaukee, Chicago, Denver, St. Louis, Philadelphia, and Atlanta.
Kai is intrigued by the idea of going to Nashville. It's easier to get to than some of the other cities, he says. "When I think of Nashville, I don't really think of a huge need there, but there are always so many opportunities to walk alongside our brothers and sisters in Christ in many different ways."
The group from St. John's will be staying at a Lutheran church in downtown Nashville. During the mornings and afternoons, they'll participate in service and worship. Opportunities include working at food banks, refugee ministries, and children's centers. In the evenings, they'll be exploring the city.
"Work groups will change every day, so our youth will have the chance to interact with every single person on the trip."
After all, flexibility is key.