"Light of the World": Men's Chorus Concert is December 9 at 4 pm
By Susan Shinn Turner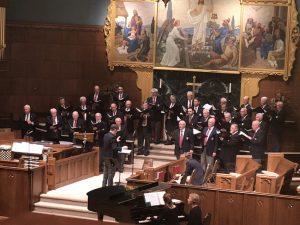 In December, the St. John's Men's Chorus will be sharing its light with others.
"Light of the World" is the theme of this year's Men's Chorus Christmas concert, set for 4 pm Sunday, Dec. 9, in the sanctuary.
"It's no secret thing that things feel a little dark in our community and in our world," says Director Jason Harwood. "Jesus is the light of the world, and I've always loved Advent and Christmas when we do readings from the first chapter of John, as well as from Isaiah, 'the people who walked in darkness have seen a great light.' I knew there had to be a program we could build around this."
It's a Christmas concert, Jason says, but it will include many selections from the Advent season. "The whole theme of the light in the darkness was really meaningful to me. Even though we feel we are in a moment of despair, it is going to be OK. The light is going to come."
Jason explains that the Advent pieces will center around waiting for the light, and Jesus as the light of the world.
"We are creating a sense of anticipation and hopefulness," he says. "We'll have some big numbers at the end that will explode and say yes! — we have arrived at Christmas."
As usual, the concert will include solos, duets, vocal ensembles, instrumentalists, and the St. John's handbell ensemble.
The choir is in a time of transition, says Randy Overcash, who serves as vice president. Some longtime members have retired, and the choir lost Frank Goodnight in the spring, who was a key recruiter, Randy says. "It will take time to build things back up."
"We are redefining ourselves," he adds. "The guys are continuing to get used to Jason. I thoroughly enjoy the rehearsals. We've had some good and productive rehearsals, and it's going to lead to a very good concert."
Jason concurs.
"We have fewer singers, but it is a good, solid sound," he says. "This is going to be a good concert."
A freewill offering will benefit Meals on Wheels.
"We are very grateful the Men's Chorus has selected Meals on Wheels to benefit from the offering," says Cindy Fink, executive director, who is also a St. John's member. "We are promoting the concert, and we just hope for a big crowd that afternoon."
The Men's Chorus will reconvene for the spring session with a welcome back party at 6:30 pm on Friday, Jan. 11, at the Hidden Creek Clubhouse. Its first rehearsal for the spring session is 4 pm Jan. 13. And the spring concert is set for 4 pm Sunday, May 5, in the sanctuary.
"The guys wanted to do a Cinco de Mayo theme," Jason admits, "and I told them, 'That is not gonna work.'
"But you never know."
President Dennis Rogers invites all interested men ages high school and up to join the Men's Chorus.
"We are certainly eager to have other men join us — from St. John's, and from the community," he says. "This is not just a St. John's group. This is a community chorus."