Thursday, November 8, 2018
|
Worship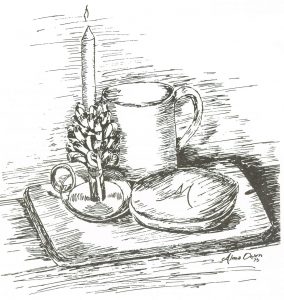 By Susan Shinn Turner
In partnership with the Center for Faith & the Arts, St. John's will host a community Love Feast & Candle Service, at 6:30 pm Sunday, Nov. 18, in the Faith Center.
Sherry Mason Brown, a St. John's member who was Moravian most of her adult life, is leading the effort. Her late husband, a second-career pastor, died when he only had two classes left to be ordained in the Moravian church. Brown says she considers Martin Luther "a good cousin" to the Moravians.
The service is focused on unity and thanksgiving, Brown says. There will be special music, a special message, and, true to all Moravian Love Feasts, guests will be served sweet buns and coffee as part of the service. Brown hopes to have a Moravian band play for pre-service music. A trombone choir will also play, as that is a traditional Moravian instrument. At the end of the service, all participants will light candles as a symbol of unity.
Brown says she has found similar services to be particularly moving. "I'm hoping we can attract people within our community as a sign of gathering together in love."
The love feast is a forerunner to community-wide events in early 2019 called "49 Days of Gratitude," which take place Feb. 9 to March 30.