Prayer Service for Those Who Have Experienced Loss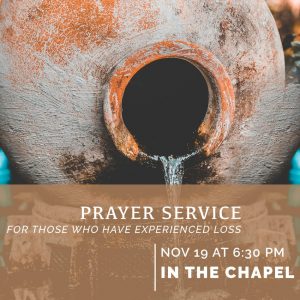 The holidays can be a filled with great joy, a time when we give thanks and spend time with those we love. But for those who have experienced loss, it can also be a very difficult time.
Dealing with the death of a loved one, facing life after divorce or separation, coping with the loss of a job, living with cancer or some other disease to name a few can make parties and the seasonally expected jolliness painful for many people in our congregations and communities. This prayer service is your safe space and time to breath before the hustle and bustle of the season.
Come and be filled by God's Spirit of compassion, love, and hope. Invite a friend that you think needs to have the same rest. We encourage all to come and stand alongside the grieving as a tangible reminder that we are never alone in the body of Christ.