Fall in Love with St. John's CDC
By Barbara Corriher
What's not to love about St. John's CDC? Here are some things that have happened at our CDC because someone fell in love!
New Books:  Pastor Laura reads to children at the CDC once a month. Pastor Laura was able to get age appropriate Bibles and scripture-based books for each classroom through a Thrivent grant.
Jane Britt, a member of the Rainbow Markers, also purchased a Bible based, age appropriate book for each classroom. These books were presented during a Rainbow Makers Welcome Back to School breakfast for the staff.
Engage Together Program: Engage Society is experiencing an ever increasing segregation of the very young and the very old. Most children spend much of their time in child care or school settings with same-aged peers, while older adults often live in communities, such as long term care living centers surrounded by people 60+. Older adults have a lifetime of experience and knowledge. Children are missing out on support, wisdom and guidance from our older generation. To help mend that bridge, Trinity Oaks began the Engage Together program in September. Twice a month, children from the CDC visit Trinity Oaks and twice a month residents from Trinity Oaks visit the CDC. Each week will hold a different activity ranging from music, reading, arts, gardening, off campus outings and luncheons.
Fall Festival:  The Rainbow Makers will host a Fall Festival for approximately 100 of the CDC's children on Friday, Oct. 26. They should have a lot of fun having their faces painted, catching Goldfish crackers at the Go Fish booth, painting with glow-n-the-dark paint and more.
A New Monitoring Camera:  A new camera system has been purchased. The previous system's quality was poor and outdated. The center now has a brand new camera that provides clear pictures of the classrooms, the lobby, the playground and the parking lot. This allows our director to monitor the activity inside and outside the building. The new and improved camera is a safety feature for our CDC and can provide helpful feedback if needed.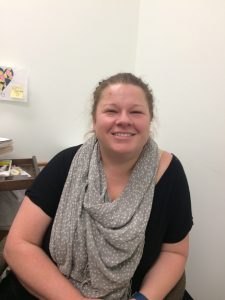 Jenifer Mauro:  Jenifer Mauro, also fondly referred to as Jimmer, fell in love with St. John's CDC 18 years ago and the staff and families fell in love with her. She started at the center in the toddler classroom as a co-teacher with our director, Courtney, while she worked toward an associate's degree at RCCC. She eventually took time off from the CDC to pursue her bachelor's degree in early childhood, birth through Kindergarten. After receiving her bachelor's she returned to St. John's as a NC Pre-K teacher in August 2013. In 2015, she became a program coordinator. Jenifer also has taken some master classes at UNC-Charlotte. Her husband is Darin Sifford and they have three children. Her oldest, 9-year-old Ruthie, attends Salisbury Academy and comes to St. John's for after school care.  Her younger two children are enrolled at our center. Ollie May is two and is in Busy Bees, while Holt is a three month old and is in Little Lambs. Jenifer says God keeps her here at St. John's because she wants to make a difference in children's lives. St. John's is her mission field. Two things she enjoys about being at St. John's are being able to share her faith with the CDC families and employees. She also enjoys working with Courtney to make sure her vision is accomplished.
Let's all make it our vision to FALL in love with our incredible Child Development Center.