Seasons Gifts is Ready for Autumn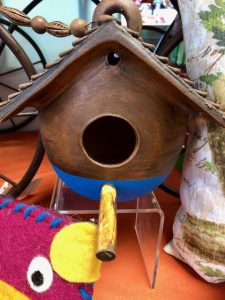 By Gerrie Blackwelder
Following what appears to have been a successful sale in August, Season's Gift Shop has restocked with items that suit every member of the family. Like most, I am usually drawn to the sweet and wonderful children's items or to women's jewelry, but this month I have been most drawn to the beautiful birdhouses.
The ceramic structures come in a couple of styles that are both appealing to the eye and appropriate for a very special population. Perhaps, like many others, you have friends or family members who are in nursing homes or are shut-ins for a period of convalescence. If so, the birdhouses are a wonderful gift that reaches that special someone in a natural and beautiful manner.
Placed just outside a window the birdhouse provides hours of natural beauty, as birds make a home for the winter months to come. The houses come in natural brown tones so are not offensive in a garish way to the landscape and give the birds a natural setting that will allow them to feel comfortable.
Imagine yourself alone at home or in a facility of care with only a television for company. A birdhouse, full if life would make a thoughtful and pleasant gift that you would probably enjoy, so share the idea with someone you love soon.
Another gift appropriate for an active cook, is a bread warmer basket with a warming tile. The time is composed of pottery and is simply beautiful. For buns, biscuits, or breads of any kind, this is a beautiful serving accessory!
And for little ones who need focused stimulation in a world filled with anything but, investigate the Pretend Play sets that build imagination and lead children to natural discovery of jobs and responsibilities. You may find a Veterinarian set that allows children to imagine that field and has auxiliary prescription pads, stickers for pet patients, as well as a Doctor of Veterinary Science Certificate to hang on the wall. Other sets include everything to make a learning environment for School or a Diner, named Best Pals'! What a wonderful way to learn to care for animals, understand the importance of reading and writing in school, or get on the job math skills at the diner.
There is also the stock appropriate for our members newly born. Natural burp cloths, fabulously beautiful christening bibs, and sweet, sweet baby jewelry are on display over by the window, shedding light on our responsibility of bringing light to the lives of little ones born into our fold.
For dads, there are man tools, beer openers, and ties, and books…again. And a shrinking stock of shoe shine kits! Go figure.
But for grown up girls, there are a myriad of things to enjoy from household handy items, to scarves, pottery cannisters and baskets, and charming things called jewelry that simply cry out for you and need homes! Come visit soon! Stock is dwindling as we speak!