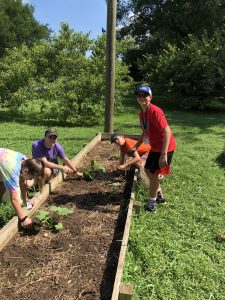 First, I woke up and we went to Cafe WOW where we talked about this guy who was being bullied by football players and the coach stepped in and helped him. Then we had breakfast. Today for service projects we went to Beardsley Farm and picked raspberries, tomatoes, and then pulled a lot of weeds. Beardsley Farm grows crops and food for homeless and hungry people in the area. Then we had lunch, and then went to KARM Thrift Store. At the store we sorted out trash and random items that would go to their store for them to sell. With our help today, we helped provide enough money to give 450 meals to people in Knoxville. My favorite part of the day was eating tacos for dinner. Today, I saw God at KARM Thrift when we met the people who help there everyday in the hot warehouse.
– Sam Lisenby
Today, I went to VMC which is basically a place for homeless people to get help with government paperwork, help with a job, and a meal. We helped serve food for lunch, which was fun, and I got to eat cake. After lunch, we went to Ladies of Charity which is a store that gives soap, food, and essential things like toothbrushes and more. We sorted things like toothbrushes, toothpaste, soap to put in bags for people who need them. And then, I sorted food. My favorite part of the day was helping to serve food to our neighbors who needed food. I saw God today when this man had this disability and someone else was there helping him get food and what he needed.
– Drew Bitzer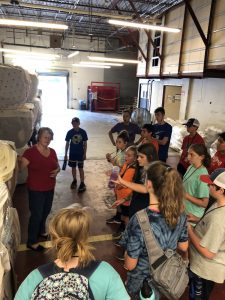 First, I woke up and went to breakfast. I ate a granola bar and a banana. It was really good. Then we went to EBed to put inspirational notes on the beds of people who are less fortunate and need a place to sleep and food for the night. After lunch, we went to our 2nd mission site, VMC (Volunteer Mission Center) to serve food to people who were hungry. My favorite part of the day was seeing the smile on people's faces when we served food to them. Today, I saw God when we prayed over the beds that homeless people would sleep in tonight. I have had a lot of fun so far here at WOW.
– Audrey Ward
So this morning at Café WOW we watched a short clip of a movie of Radio, where a handicapped man picked up a football and put it in his shopping cart and walked away. The football players didn't like that and captured him and abused him. The football coach saved Radio. We watched this because it taught us that just because someone might be different from us or might be a different race than us that it doesn't mean we can treat them differently. I went to Beardsley Farm and picked blackberries and pulled weeds. I went to KARM Thrift Store after lunch, and I sorted clothing and miscellaneous toys. With our work there we contributed to feeding people in need in Knoxville. My favorite part of the day was at Beardsley Farm because it was fun working outside, and there was a nice breeze. Today, I saw God in the faces of the people that we helped. At KARM Thrift, the lady we worked with was excited for us to be there and about how we could help over 450 people get food with our work.
-Ty Buechler