Men's Chorus Concert May 20 at 4 pm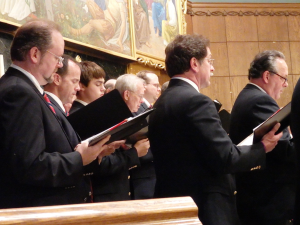 By Susan Shinn Turner
The St. John's Men's Chorus will present its spring concert, "Peace, Prayer, and Healing," at 4 pm Sunday, May 20, in the Sanctuary.
It's the men's second concert with their new director, Jason Harwood.
"The Christmas concert definitely made me feel that sense of accomplishment," Jason says. "It was a great way to kick off the Christmas season, and that was a good feeling for sure. I couldn't be more pleased."
Soon after, Jason turned his attention to the spring program.
"For me, part of being involved in any kind of music program is choosing a theme," Jason says. "I should just let it go and let the Holy Spirit guide me. But even before Christmas, I had a piece in mind I had sung at Lutheridge."
"Come Ye Disconsolate" is a beautiful arrangement of an old hymn. Its lyrics include the line, "Earth has no sorrow that heaven cannot heal."
"No matter what's going on, there's God's healing," Jason says.
Accompanist Janie Rollins — Jason calls her "incomparable and wonderful" — suggested an arrangement of "Shall We Gather At The River," and then Mitch Siegel suggested an arrangement of "My Soul's Been Anchored in the Lord."
Jason praises Janie for her collaborative efforts in pinning down the selections. He says that each piece will have something to do with peace, prayer and healing — or a combination thereof.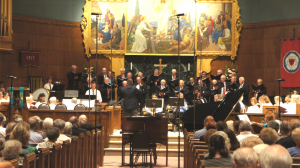 Jason says concert-goers can expect a broad range of music — some quiet pieces, and some "boisterous." As usual, the instrumentalists and handbells will participate. Jason is also inviting representatives from other denominations and faith communities to participate.
"The idea of prayer, healing and peace is something that's in all faiths," he says.
Jason's first exposure to "Come Ye Disconsolate" was as a handbell clinician at Lutheridge Music Week in the summer of 2013. His grandmother, Nancy Burleson, had gone into the hospital and he visited her before leaving town.
"I just knew in my heart I would not see her again," he admits. Nancy died that Thursday, just before Jason went into a music reading session.
"Every piece we read through was really beautiful," he says. "When we sang 'Come Ye Disconsolate,' I thought, boy, did I need to hear this right now or what? I knew I was going to sing this somewhere, somehow, someday. There is healing to be found despite the difficult times. Now is the time we can present this concert of peace and healing. We need it."
The theme has taken on special poignancy for the chorus following the death of longtime member Frank Goodnight, who died suddenly on April 6. The chorus sang at his funeral, and will dedicate the spring concert in his memory.
"Frank was such a dedicated and enthusiastic member of our group," Jason notes. "We absolutely wanted to honor his contributions with his concert."
A freewill offering will support Rowan Helping Ministries.