LYRA, A Cappella Group from Russia
By Susan Shinn Turner
Lyra, an a cappella vocal ensemble from St. Petersburg, Russia, will again visit St. John's for the 11 am worship service on April 29.
"We are excited and privileged to have Lyra return to us for the third time in five years," says Rob Durocher, minister of music and deacon. "We will be blessed by their rich and vast musical heritage of the Russian Orthodox Church."
Lyra is a community of professional musicians, most of whom are students or post-graduates of the Saint Petersburg Conservatory, working in different choirs there. Their selections will include ancient songs and the works of famous masters from the 18th– 20th centuries.
Although the choir community of Lyra includes about 25 vocalists, five of their members will be singing for us during this tour. They include Dennis Patsiuk, tenor; Anna Makarenko-Pender, soprano; Aleksandr Kudriashov, bass; Tatsiana Melnikava, mezzo-soprano; and Sergey Tupitsyn, baritone.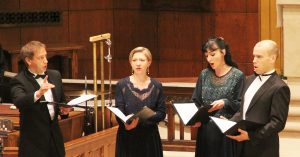 "Without any amplification, these talented musicians stir the congregation with both the power and beauty of their voices," Rob says. "We're honored and privileged to have them back as friends and musicians as they share with us a little bit of the Russian Orthodox tradition of liturgy, hymns and songs."
Lyra will have their CDs for purchase after the 11 am service, and will welcome your comments as you greet them.
For more information about Lyra or to hear samples of their music, visit their Web site: www.lyra-online.org/en/home_en.html