By Susan Shinn Turner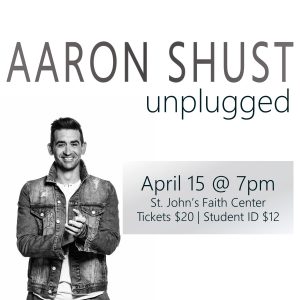 Aaron Shust, a contemporary Christian singer and songwriter, will perform a live acoustic concert at 7 pm, April 15 in the Faith Center.
"I cannot wait to see him again! I have seen Aaron Shust in concert twice now. Each time is completely different, and each one even more amazing than the last," says Bradley Chestnut, contemporary worship leader. "When I saw him for the first time, it was at the Hickory Crawdads baseball field. They were having power difficulties, yet he was able to portray a nonchalance that invited the audience to see his own humanity — a quality that is all too often missed in shows like this.  That is when I saw him not as a superstar,but as a worship leader."
"His style is one of the many styles that we incorporate in 9:27 Worship. Even some of the songs he sings, like 'Ever Be,' are used quite often in our contemporary service as well as contemporary services across denominations and across the world. We are so fortunate to be able to host someone like him, but, more importantly, we are so blessed to have him lead worship."
"Aaron Shust and his music have actually played a significant role in my life as a worship leader," says Ondria Witt. "He came onto the Contemporary Christian Music scene around the time that I began to devote myself to a life of extravagant worship. 'My Savior, My God,' a song Aaron Shust is well known for, helped me through the sometimes dark days of my mother's battle with breast cancer. His upbeat version of the worship anthem 'Ever Be,' is yet another powerful song which holds special meaning for me.
"Although he is an award-winning recording artist, he is first and foremost a worshiper, who leads with authority and humility, and reminds us of the hope in God's promises. What excites me about hosting Aaron Shust at St. John's is so much more than the promise of uplifting music — it's the promise of an incredible night of worship, where we come as we are with expectant hearts, and come together with Aaron and his team, allowing them to lead us to a place of abandon and adoration."
Shust, who lives in Pennsylvania, was named New Artist of the Year and Songwriter of the Year at the 2007 Dove Awards. His song, "My Savior, My God," was Song of the Year. In addition to "Ever Be," his hits include, "My Hope is in You," "No One Higher," and "O Come, O Come Emmanuel," a perennial holiday favorite. Since 2005, he's released a number of albums and singles.
Tickets for the concert are $20 or $12 with valid student ID. To purchase, click here or visit Seasons Gifts.