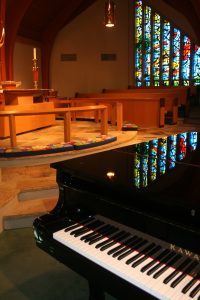 You are cordially invited to Music and Meditation during the lunch hour on three consecutive Mondays during this Lenten Season.  They will be held in the beautiful St. John's Chapel at  on Mondays, March 5, 12, and 19 from 12:15-12:45 pm.
The services will include prayer, meditation, and special music by Stephen Stringer, piano (March 5); Rosemary Kinard, flute and Rob Durocher, piano (March 12); and Deanna Boksleitner, organ (March 19).
Stephen Stringer serves as the Director of Music Ministries and Organist at St. Paul's Lutheran Church in Salisbury, as well as adjunct Professor of Music at Catawba College.  Stephen is a graduate of Catawba College and is currently working toward a Master's Degree in Choral Conducting at the University of North Carolina. His appreciation for diverse musical genres and styles has afforded him unique opportunities and successes in both sacred and secular music environments, including musical theater and popular music. Stephen is grateful for the opportunity to worship with St. John's during this most holy season of Lent.
Rosemary Kinard, raised in Alabama and Florida, is Associate Parish Musician at St. John's, after having retired in 2007 from her twenty years as Head of the Choral Program at Catawba College.  She has degrees from Asbury College and Appalachian State University, is a singer, flutist, and keyboardist, accompanies the Chancel Choir, and directs various ensembles, including the two St. John's Children's Choirs.
Rob Durocher is Minister of Music at St. John's where he administers the music program of numerous choirs and ensembles and oversees the musical leadership for the 8:30 am Chapel Worship, 9:27 Contemporary Worship, and the 11 am Sanctuary Worship.  He is an organist, keyboardist and composer, and is active in the North Carolina Synod of the ELCA where he serves on the Candidacy Committee.   Born in Texas and raised in New Jersey, he came to St. John's in 1998, after having served churches in Gastonia and Ramsey, NJ.
Deanna Boksleitner serves as the organist for St. John's 8:30 Chapel Worship and directs the Chapel Choir. Born in Frederick, MD, she holds a degree in voice and organ from Meredith College, and earned a Master of Church Music degree in organ from Concordia, University in Chicago.  She has served as a Lutheran Minister of Music/Organist for 22 years, President of the American Guild of Organists in Central NC, founded the Wake County Lutheran Music Directors Assoc., and has published several anthems.  She retired to Trinity Oaks with her husband, Rudy, in 2011.
Please invite your friends to join you for these brief but meaningful services of music and meditation at mid-day in the St. John's Chapel.