South Sudan: New life for Dua Monyluak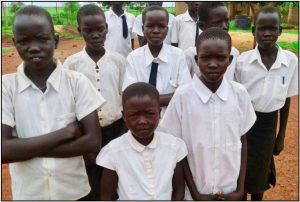 By Karen Puckett
During 2017, our ministry in South Sudan experienced several milestones. Dau Monyluak, who St. Johns' Endowment Fund sponsored, completed a college degree and is now planning to teach at one of our South Sudan-based schools in Ruweng State. Our project managing partner, Mothering Across Continents, has been approved to provide teacher training throughout Ruweng state as our schools are the only fully functioning educational facilities in the area. The consortium project, called "Raising South Sudan" continues to provide meals, uniforms, textbooks, school supplies, school, and teachers to over 600 students at both the Gumriak and Nyarweng primary schools. Serendipitously, the efforts of our local school partner, Isenberg Elementary (a Title I school with 90% of students living in poverty based on federal guidelines), raised over $2000 for our South Sudan schools!
The new nation of South Sudan continues to struggle with famine, tribal unrest, and limited educational
opportunities. Many of the people in South Sudan say they crave spiritual renewal in order to overcome the many challenges they face on a daily basis. Although not connected to the Raising South Sudan project, the national ELCA now has a major presence in South Sudan. Until recent years, ELCA support was provided through 3rd party sources. In 2017, the national church opened a community center and clinic in Juba, South Sudan as part of its "South Sudan: A New Church for a New Nation" focus.
The Raising South Sudan Project is now requesting funds to support sixty children from Ngor Kur Mayol's village of Aliap as they attend grades first through eighth at the Gumriak School. Costs for annual scholarships are $300 for Half Academic; $600 for Full Academic; $1080 for Full Academic plus meals. To donate to the scholarship fund, please make a donation of any amount to Sudan Rowan, 576 Adrian Road, Salisbury, NC 28146.