Guatemala: 100% Graduation Rate at la Escuela Integrada
By Paula Bohland
In November, supporters from around the country gathered in Guatemala to attend the beautiful graduation ceremonies and witness fourteen students graduating from the school. During the gathering school personnel, GRACES staff, and supporters also engaged in evaluating the past year and planned for the next year. In past gatherings, we considered the year from the perspective of immediate need and trying to survive. This year was different — we are THRIVING! With a thankful heart we note all that God has provided in 2017:
-For the first time ever, ALL children attending La Escuela Integrada have a sponsor.
-171 students are enrolled for the 2018 school year. This includes thirty-five new students who are now receiving an unprecedented opportunity for an education.
-In 2017, we had a 100% graduation rate.
-The children are now being fed a full breakfast every morning (this is in addition to the full, nutritionally balanced lunch and snacks they receive daily).
-We now have a full-time school psychologist so that more assistance is offered to the children and families.
-We have established new partnerships, both in-country and internationally, for the school, resulting in more resource availability for the children and teachers.
-More than forty of St. John's youth traveled in two mission groups to Guatemala during the summer to serve at the school.
-The Inaugural Quetzal Gala fundraiser for the school was a great success. The Second Annual Quetzal Gala is slated for Sep. 22, 2018 in Salisbury (save the date!).
– We started our coffee project, a sustainability project for the school.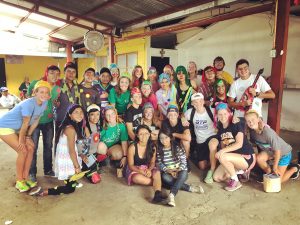 -The teachers and staff are actively teaching about the Bible, and we are planning even more opportunities for the children and staff to grow spiritually.
We know that God is on the move at Escuela Integrada. We are celebrating that our organization and children are moving from merely surviving to thriving in their lives. So that we may assist this movement, we are looking to achieve 5 goals in 2018:
1. Provide technology in the classrooms so that the children are better able to navigate the global web based economy.
2. Move the school to a better and larger space.
3. Enrich the English language program, since knowing. English provides an additional "leg up" in Guatemala.
4. Provide teachers and staff increased support and benefits.
5. Buy a new microbus to replace the dilapidated second bus we own.