"Sing to the Child" Men's Chorus Christmas Concert Dec 10 at 4 pm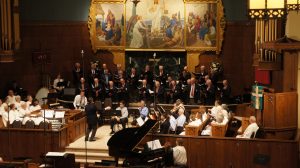 By Susan Shinn Turner
Sure, the leaves are still changing and falling from the trees, but for the Men's Chorus, it's been Christmas since September!
"When September comes, you're practicing Christmas music. That's just the way it is," says Jason Harwood, the group's new director. The group has been preparing diligently for its annual Christmas concert, slated for Sunday, Dec. 10, at 4 pm in the Sanctuary.
"The men have done very well and been very responsive," says Harwood, who took over this year from Rosemary Kinard, its founding director. "I heard I might have trouble out of a couple of them, but they've been very well behaved!"
Kidding aside, this year's concert theme is, "Sing to the Child"
"One of the many ways we can honor the birth of Jesus is to sing for him," Harwood says, noting the concert will include Advent, Christmas and Epiphany selections.
The chorus is once again accompanied by its longtime assistant, the incomparable Janie Rollins, with Rob Durocher helping out on organ and four-hand piano selections. As is the group's tradition, there will also be congregational carol singing, and St. John's handbells will play, under the direction of Kimberly Lentz.
Harwood says the transition this fall has been smooth.
"It's OK to say I was nervous, because I was," Harwood says. "But we had a very successful symphony performance, and once we got that taken care of, we were on our way. These guys are very receptive to anything I want to try. They are dedicated to the success of this group, and they'll do whatever it takes to make that happen."
"We're really excited for this concert because of the opportunity we have to give an awesome performance," says Andrew Poe, a junior at Catawba College who has sung with the chorus for four years. "We may be under a different director, but one who still has amazing gifts. I think it will be a cool thing getting to see the Men's Chorus go through a different way of practicing with a new director, while still coming out and performing at the same high level as always."
[gview file="http://stjohns-salisbury.org/wp-content/uploads/2017/11/mens-chorus.pdf"]