SCREENAGERS: Movie Night for the Family
Movie Night for the Family
Sunday Nov 5, 5:30 PM
"Are you watching kids scroll through life, with their rapid-fire thumbs and a six-second attention span? Physician and filmmaker Delaney Ruston saw that with her own kids and learned that the average kid spends 6.5 hours a day looking at screens. She wondered about the impact of all this time and about the friction occurring in homes and schools around negotiating screen time—friction she knew all too well.
In SCREENAGERS, as with her award-winning documentaries on mental health, Delaney takes a deeply personal approach as she probes into the vulnerable corners of family life, including her own, to explore struggles over social media, video games, academics and internet addiction. Through poignant, and unexpectedly funny stories, along with surprising insights from authors, psychologists, and brain scientists, SCREENAGERS reveals how tech time impacts kids' development and offers solutions on how adults can empower kids to best navigate the digital world and find balance."—screenagersmovie.com
One of the biggest concerns Kai Thurow, St. John's youth and family minister, hears from families is how to balance the time teens spend on their digital devices.
After multiple inquiries from parents hoping to see the documentary, Kai scheduled a viewing of SCREENAGERS for Sunday Nov. 5 at 5:30 pm.
The movie addresses how children and parents struggle with screen time, social media, video games, etc.  Kai hopes it will be helpful to a lot of families and stimulate healthy conversations between parents and teens.
If you've ever thought about how to balance the amount of time your child spends on their phone, videogames, or iPad, this is an excellent way to learn, grow, and start some healthy conversations.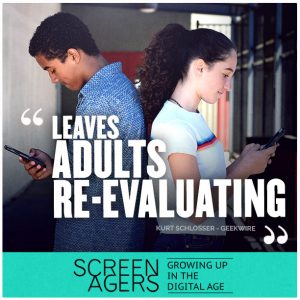 Nichole Towns, a parent here at St. John's, looks forward to the showing, "Friends of mine have seen this with their children and have all highly recommended it."
We would love for ALL of our youth and their parents to come. Parents are highly encouraged to see the movie with their children who are 10 and older. You can kind of think of this as a family movie night here at St. John's!
Because this is such a relevant and important topic, we want to open this evening showing of SCREENAGERS to the community. Invite your friends!
There will be time, following the movie, for pizza and productive discussion.
This event will be free to the community with support from youth parents. Please contact Kai if you are interested in sponsoring this movie showing.
RSVP at https://impactflow.com/event/presented-by-st-john-s-lutheran-church-5517.