Jason Harwood Named New Men's Chorus Director
Monday, September 25, 2017
|
Worship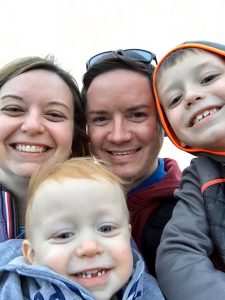 By Susan Shinn Turner
Jason Harwood is the new director of the St. John's Men's Chorus. He succeeds founding director, Rosemary Kinard, who retired from the chorus but continues her duties as associate parish musician.
Jason, 35, who lives in Rockwell with his wife, Chrissy, 34, and their sons, Levi, 7, and Davis, 3, is an elementary music teacher who will be at Shive and Koontz this year. He will continue his duties as director of music at Mount Zion United Church of Christ, China Grove.
"I was absolutely surprised that they decided to go with me," Jason says of his selection. "This is a group I've obviously heard about for a long time. When I heard Rosemary was retiring as director, I was curious about how they would go forward, if they would go forward."
St. John's members Frank and Diane Goodnight have sung with Jason for years in the Faith Fourth chorus, and Frank encouraged Jason —several times, in fact — to apply.
"It was a once-in-a-lifetime opportunity," Jason says, "and I honestly thought it was a shot in the dark. But with some prodding from Frank, I knew I couldn't pass it up. I wanted to try."
"Jason is a  talented director and even-tempered individual who never lets anything get under his skin," Frank says. "He's just a nice young man. I never had any doubts he was the right choice for our new director. I am extremely pleased, and we're all looking forward to him being with us."
"I have heard many good things about Jason from those who have sung under his direction," Rosemary says. "It is wonderful to know that the Men's Chorus will be in such good hands as it moves into this new season with a new director."
"After interviewing several promising candidates for the Men's Chorus director position I felt that Jason was someone that I wanted the Men's Chorus Director's Interview Team to have a deeper conversation with," says Rob Durocher, minister of music. "I've been somewhat familiar with Jason and his work for several years through his Lutheran/musical connection to this community as well as his work as a handbell clinician at Lutheridge. He hit all of the right buttons with the interview team by sharing his background, faith and family story. We were also very pleased by his sincerity, and his pleasant, warm and relaxed engagement.
"He understands the impact that the Men's Chorus has in this community and the very strong foundation and creative vision that Rosemary's faithful leadership helped build for them these last 23 years. Jason found Rosemary's leadership and vision to be exciting, challenging and something that he would be honored to continue! With fresh perspective and a 'ready-to-go' attitude, Jason is ready to begin the 24th season of St. John's Men's Chorus, and we look forward to his work and to working with him in this wonderful music ministry."
Following a "music legend" is intimidating, Jason admits. "But with the guidance of the Men's Chorus council and my own personal philosophy, I think it's going to be a good thing we can continue. Music is something that speaks to every person. Music, in its own special way, has the ability to transform our everyday experience. Making music as a group is very powerful."
Jason invites veteran Men's Chorus members to return to sing with him, as well as any male high school age and up who is interested in becoming part of the group.