Oprah Winfrey Donates Items to Quetzal Gala Auction
Wednesday, September 13, 2017
|
Outreach
By Susan Shinn
Oprah Winfrey has donated two items for auction at an upcoming gala next month in Salisbury.
A pair of Nicholas Kirkwood pumps and a pair of Dita designer sunglasses will be up for grabs during the Quetzal Gala on Sept. 16 at the Country Club of Salisbury. This event raises money for the students of Escuela Integrada, a school in Antigua, Guatemala.
GRACES is the Salisbury-based non-profit organization that oversees and raises funds for the school. A connection with GRACES brought about the donation from Winfrey, the entertainment mogul consistently ranked as one of the world's wealthiest women.
One of GRACES' supporters has a friend who worked for Winfrey at Harpo Studios, her former production company. The friend put Paula Bohland, GRACES' executive director, in touch with Winfrey's staff.
"I wrote the email of my life," Bohland said Thursday morning. "I sent information about our organization and a request for a donation for our gala. I had to keep it short enough and interesting enough to hold their attention. We sent it, and very quickly, we heard back that they were considering it."
With the items came a printed copy of Bohland's email, with a handwritten greeting across the top: "Best wishes for a great event!" Winfrey signed the inside of the shoes and the temple and case of the sunglasses. The shoes are a European size 41, equivalent to size 9½ to 10.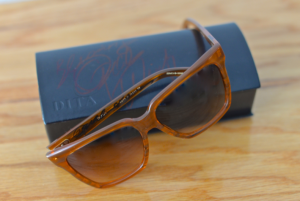 "Our organization is a good quality organization," Bohland said. "The fact that Oprah Winfrey gave this donation affirms for me the good work we're doing. She's been a person in my life who inspires me, and to have her give us these items is amazing. It shows me how abundant our God is."
Bohland posted the good news on Facebook Wednesday evening, she said. "We sold a lot of tickets that night."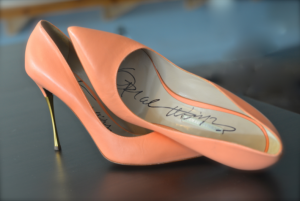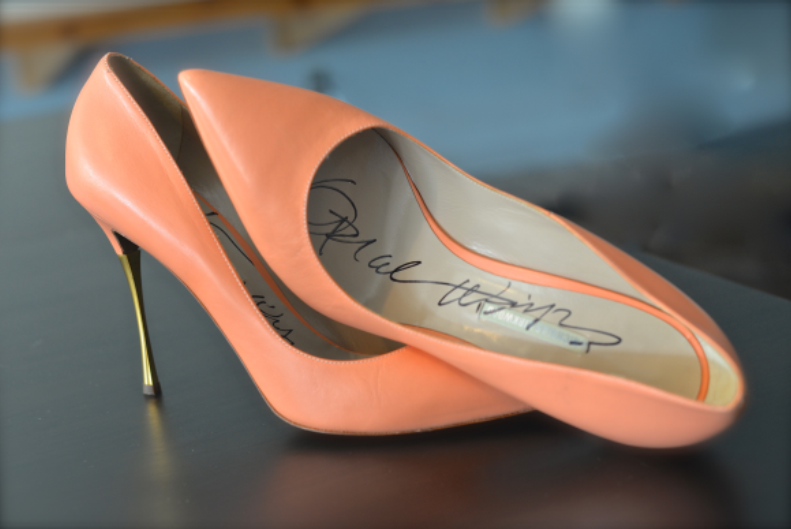 Interest in the event has soared, she said. "I'm honored that Oprah looked at our organization and helped us out. This gives our event credibility and generates additional excitement. Supporters will be coming to Salisbury from all over the country, and Oprah's spirit will be right there with us."
The Quetzal Gala is set for 6:30 pm Sept. 16. Tickets are $75 per person (cocktail attire). Please visit wearegraces.org to register. Contact Paula Bohland at paulabohland1006@gmail.com for sponsorship opportunities.