Congregation-wide Work Project at Salisbury High, Sept 9-10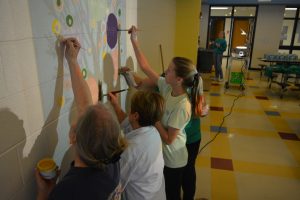 By Susan Shinn Turner
After completing projects at elementary and middle schools, St. John's Serves this year will be working at Salisbury High School. The event is set for two days, 9 am to noon on Saturday, Sept. 9, and noon-3 pm on Sunday, Sept. 10. A sub lunch will be served on Sunday.
"We want to continually support our public schools," says Pastor Danielle DeNise, St. John's former pastor for discipleship, who led the community outreach project since its inception. "We thought that the high school was a nice next step. Salisbury High's principal, Luke Brown, recently joined St. John's, so it is a nice partnership between our church and the school."
Sandra Sullivan, a teacher at Salisbury High School, says the project received $1,000 from St. John's, plus an additional $250 from Elizabeth Derrick, who applied for a Thrivent community grant.
Over two days, volunteers will landscape a student picnic area, which includes leveling the area, setting railroad ties, and mulching. Volunteers will also paint two art rooms which have moved to a new location, plant flowers, and pack teacher gift bags.
As usual, Sandra notes, there is something for every skill and ability level. She adds, "And it's fine to come to church on Sunday morning dressed for work!"
As an extra bonus, the school's technology facilitator will be on hand to give members a tour of the technology and engineering departments. "We want our members to see what we are doing at Salisbury High School," Sandra says.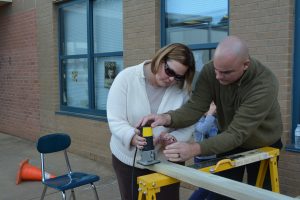 Sandra was thrilled to know that her school — she's taught there for 28 years, spending only one year away with her husband's work — was chosen for St. John's Serves.
"It was an immediate yes to participate on my part," she says. "We have so many members of St. John's in the Salisbury High School community. My parents went there,and my brother and I went there. To support this school is extremely important to me. We'd love to have people come out and see what our school is about, and all the good things we are doing."
To sign up for St. John's Serves, visit stjohns-salisbury.org.