MOM Dental Clinic Returns this September
By Susan Shinn Turner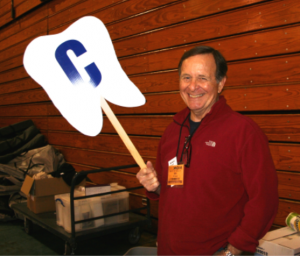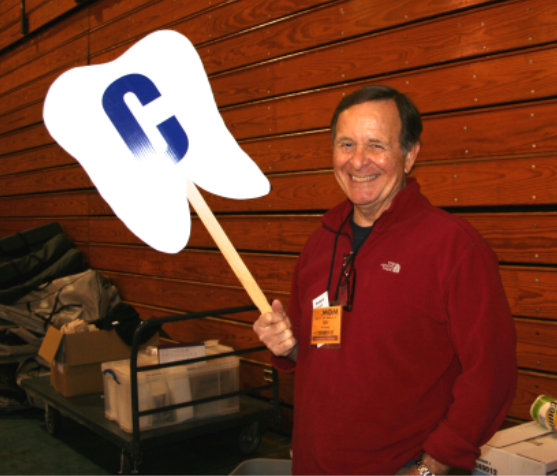 The third Missions of Mercy (MOM) dental clinic is slated for Sept. 15-16 at The Event Center at West End Plaza (formerly Salisbury Mall), and Krista Woolly wants YOU.
Krista, executive director of the Community Care Clinic, is serving as community coordinator for the dental clinic, a   ministry that was initiated by downtown churches in 2013. Some 300 volunteers are needed to serve 800 patients over a two-day period.
"To put it into perspective, in one weekend this clinic provides 6 months of the services we can provide at the Community Care Clinic. It's an amazing gift." Krista notes.
Not only are dental professionals — dentists, hygienists and oral surgeons — needed for the event, but community volunteers are needed to serve as greeters, provide data entry, help with set up and break down, take out trash, ferry   supplies and serve meals.
St. John's member Margaret Basinger is co-chairing the food committee to serve meals to volunteers. Margaret has assembled a team with each member responsible for each of the meals.
"We are gathering food for our volunteers for six meals — Thursday evening set-up with 50; Friday morning breakfast for 200; Friday lunch for 300; Saturday breakfast for 300; and Saturday evening clean-up for 50," Margaret says.
For breakfast, Margaret is seeking donations of muffins, buns, croissants, bagels, fruit, yogurt, juice, water, and coffee. For lunch, she's looking for sub sandwiches, and for dinner is looking for pizza. You can either purchase the food or give the committee money with which to purchase it, she says.
Margaret invites members to apply for Thrivent Community Grants to help cover expenses and supplies for each meal. To assist with the meals for volunteers, please contact Margaret at dbasinger1@outlook.com.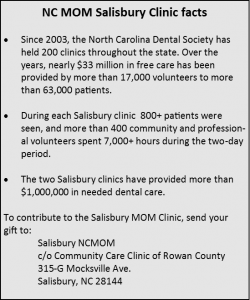 Attorney Jay Dees spoke to his Rotary Club in July about his experience as a volunteer.  "To be a part of a project that  provides absolute and immediate relief from pain is really amazing," Jay says.
He adds, "In talking with the people who come to the MOM clinic, you find that some are unemployed because they're too embarrassed to an interview because of the condition of their teeth.
"We often hear patients say, 'Now I can smile again.' But it's more than that. They now have the confidence to re-engage as an employee and re-engage in society. It's about becoming a whole person again."
If you'd like to volunteer at the MOM Clinic, please visit
ncmom-salisbury.com.