Henry Trexler to Retire as Scoutmaster after 36 Years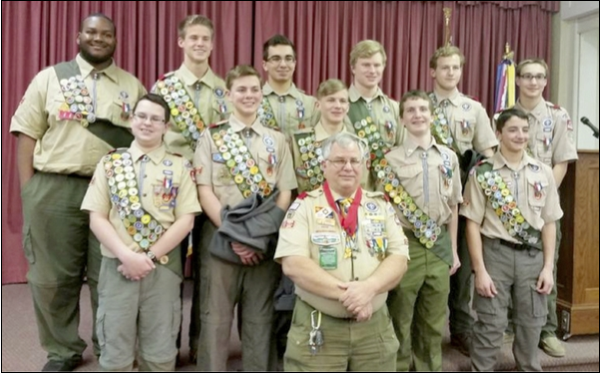 By Susan Shinn Turner
Longtime Scoutmaster, Henry Trexler, retired from Troop 443 on April 30.
During his tenure at St. John's, some 120 young men attained the rank of Eagle Scout. Henry joined Troop 443 in 1959 as a Cub Scout. He earned his Eagle in 1968, the same year he became an adult leader. He has served as Scoutmaster since 1981.
"He has been a well-loved, appreciated member and friend of our troop and the Central NC Council," says Dee Ann Vincent, one of Troop 443's nine assistant Scoutmasters.
Henry's list of Scouting accomplishments is extensive. Among his awards: American Legion Scoutmaster of the Year, District Award of Merit, James E. West Award,
Lutheran Church Lamb Award, two-time Scoutmaster of the Year, two-time Webelos Leader of the Year, William T.
Hornaday Gold Adult Award
He has also camped more than 2,000 days and nights, although he stopped counting in 2010. He has completed 19 historic trail hikes, completed 22 Salisbury Historic Trail hikes, received 14 50-mile hiking awards, attended the National Jamboree eight times, been whitewater canoeing as an adult leader 13 times and whitewater rafting 47 times. He attended summer camp at Camp John J. Barnhardt for 50 years.
Henry followed his parents, Lamar and Ellen, into scouting. Lamar was Scoutmaster at St. John's from 1970 to 1981.
"His mom and dad were some of the biggest and best Scouting people in the district, there's no doubt about that," says Dave Roof, St. John's Cubmaster. "Scouting's always been a part of their family. Henry's gonna leave a big hole at the troop, district and council level. He was always the go-to guy. If you needed something done, you'd call Henry, and he'd take care of it."
On April 22, Henry received the Outstanding Eagle Scout Award from the National Eagle Scout Association at the Eagle Conclave at Great Wolf Lodge.
St. John's and Troop 443 are planning a retirement celebration in Henry's honor on May 28 at the 11 am worship service. Congratulations, Henry, and best wishes in your retirement!