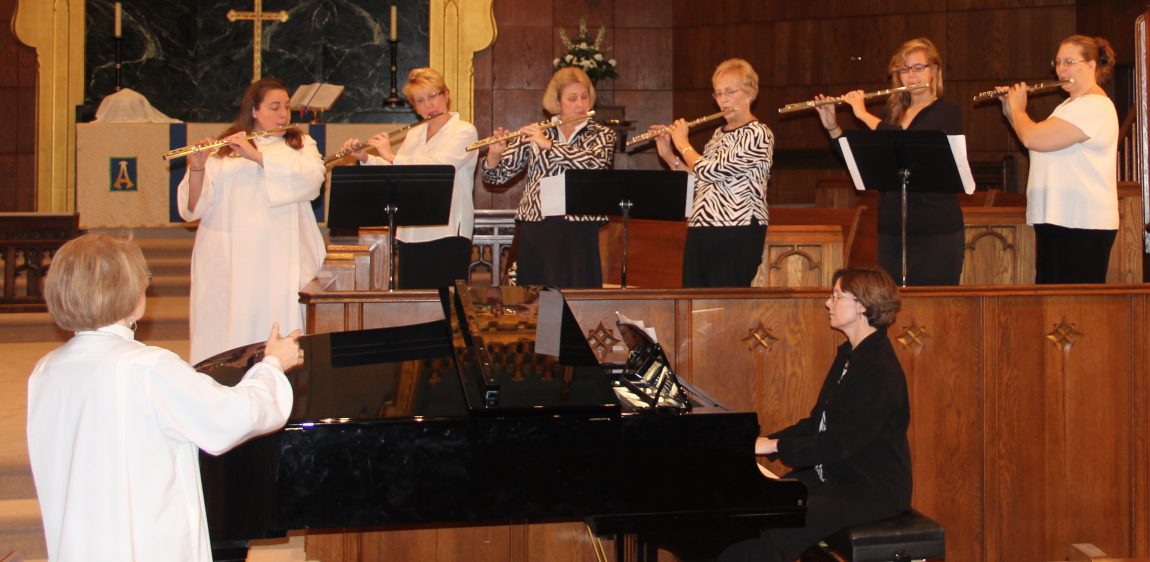 WE HAVE MANY OPPORTUNITIES TO ENGAGE IN AND SHARE MUSIC AT ST. JOHN'S.  COME JOIN US AS WE PLAY INSTRUMENTS, RING BELLS SING TO THE GLORY OF GOD. IF YOU ARE INTERESTED IN ANY OF THESE OPPORTUNITIES, PLEASE CONTACT OUR MINISTER OF MUSIC, ROB DUROCHER.   
Adult Handbell Ensemble
Bells add such beauty to our worship service.  Under the direction of Kimberly Lentz, we have two active handbell choirs that provide special music in our 11 am worship services.Our Adult Handbell Ensembles each ring 7 octaves of Malmark Hand Bells and 7 octaves of Malmark Handchimes.
Luther Ringers rehearse on Monday evenings, September- May, at 7 pm in the church sanctuary.
Classic Ringers rehearse on Wednesday evenings, September- May, at 6:15 pm in the church sanctuary.
Flute Ensemble
Flute players of all ages provide special music for worship at our 11 am service.  The group, led by Rosemary Kinard, usually plays four times a year and rehearses twice before each performance.  The group generally practices on Sunday mornings for 30 minutes following 11 am worship.
Trinity Singers & Ringers
This group is a joint partnership between St. John's and the Trinity Oaks retirement community in Salisbury.  Its members are 60 and older.  This group performs numerous concerts at Trinity Oaks, annually.  One concert each year is offered jointly with the Y-Wonders chorus.
Singers meet on Thursdays at 10:15 am, Special Events Room (Trinity Oaks)
Ringers meet on Thursdays at 11 am, Special Events Room (Trinity Oaks)