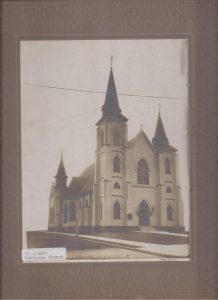 St. John's Lutheran Church, founded in 1747, enjoys a rich history of commitment to providing a place of worship and ministry for the people of Rowan County.
The congregation was founded by German immigrants who met in the homes of the settlers of Rowan County. The first place of worship was a log structure built in 1768 on North Lee Street in Salisbury.  The cemetery built along-side the church still exists, known as the Old Lutheran Cemetery.
A joint venture between Episcopalians and Lutherans built a new church on the same site in the early 1800s.  This second house of worship was in use until 1857 when the congregation moved to a larger worship space at North Main and Liberty streets and was officially named St. John's Evangelical Lutheran Church.
By the early 1920s, increasing membership resulted in purchase of property closer to downtown.  The first worship service for the 900 seat sanctuary was held January 2, 1927. Since that time, several improvements have been made to the worship space. In the mid-1950s, St. John's was the largest Lutheran congregation between Washington and Atlanta.
In 1967, the Education Building and Chapel were completed and dedicated. A Memorial Garden and Columbarium was added in 1997, and in 1999, the Child Development Center was completed. The Community Ministry Center, a former law office located at the corner of Council and Church streets, was dedicated in April 2012.
September 12, 2015 we celebrated another historic event in the life of St. John's — the dedication of our new building.  It is truly a gift from God.  Thank you for all your gifts that have helped make this vision to create a contemporary worship space, gathering space and new youth space a reality.
In 1988 Martha Agner and Martha Hines Morehead published "The History and Heritage of St. John's Evangelical Lutheran Church through 1983." The 549 page book provides an interesting look into the beginnings of Lutheranism in Rowan County and the mutual growth of St. John's and the city of Salisbury.