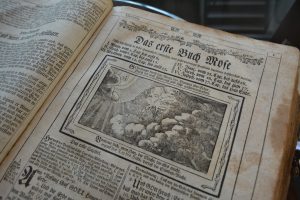 To commemorate the 250th anniversary of Salisbury's first church building, St. John's has launched its first digital exhibit in a soon-to-be-named heritage museum. The exhibit celebrates the act of benevolence that established our congregation in Salisbury.
The John Lewis Beard deed of 1768 provided land for the location of a church— the first to be built in Salisbury— in the eastern square of the new county seat. The site was in a grove on the edge of the village where he had recently buried a beloved daughter. Today the area is known as the Lutheran Cemetery, where many of Salisbury's early settlers, business leaders, and educators were buried, including some of the founders of our congregation.
This first digital exhibit interprets the background of the German settlement that began around 1747, long considered the year a Lutheran church was founded in Salisbury, albeit without a church building.
Salisbury was considered the "orderly' capital of the North Carolina backcountry, hence it being named after England's oldest city. As such, the British demanded a complicated system of taxation from those in Salisbury and similar townships throughout the colony. A tax payer revolt ensued — called the Regulation — prompting the colonial governor to seek alliances with oppositional groups, including the Germans. One such affluent and prominent German was John Lewis Beard, who, in 1768, deeded land to the Salisbury Lutherans in order to build an "orderly German church in Salisbury." A log meeting house was promptly constructed.
From that time forward, many townsfolk called the meeting house John's Church, which might serve as the earliest name of what would become St. John's Lutheran Church, Salisbury's First Church.