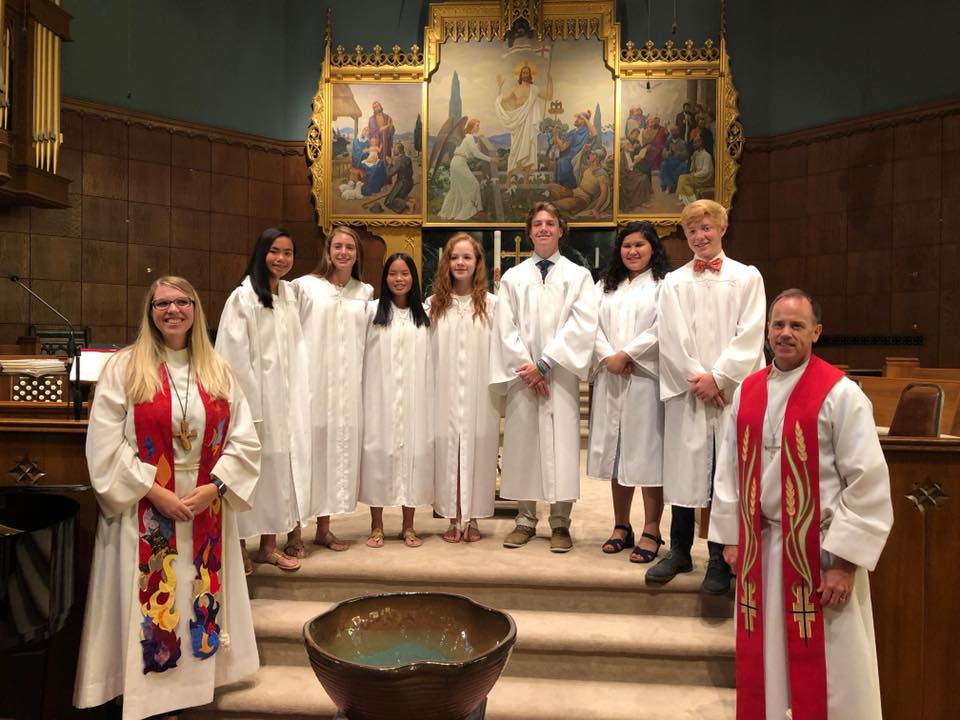 Confirmation is a two year journey during 7th and 8th grade in which students study the basics of faith and the Christian life. The journey ends with a week long confirmation camp at Lutheridge, always considered a high point of their two year experience.7 of our youth were confirmed during a Unity Service on August 26. A highlight was the sharing of their faith statements, which you can read below.
Good morning.  My name is Wade Robins.  I will be a freshman attending Salisbury High School this fall.  I love soccer, fishing, and hanging out with my friends.
Ever since I can remember, my family and I have said nightly prayers and thanked the Lord for all of our blessings, but we didn't really have a church we called home until few years ago. Meg and Jay Dees invited us to attend St. John's Lutheran Church, and since that day, I have been participating in youth group and have been on the confirmation journey.
Recently, I had a life changing experience that strengthened my faith, and I felt Jesus's presence more than ever before. On April 10th of this year, I found out that one of my best friends had cancer.  I felt scared, upset, and confused.  I questioned why a diagnosis like this was given to one of the nicest guys I know.  Why did my friend have to get so sick and face this horrible fight? I didn't know what to do, so I prayed.  I prayed harder than I had ever prayed before.  My family and I gathered close friends and asked them to pray with us.
Kai, our youth director here at St. John's, really helped me understand my emotions.  Only days after the diagnosis, Kai came over to my house and met with five of my friends and me.  We discussed our faith and we prayed together.  We began to understand that we could not fix our friend, but we could rely on each other for support. Most importantly, Kai taught us that God and Jesus were here for all of us.
After 6 rounds of chemotherapy, and with a fighting spirit, my friend came home from the hospital.  Just this Friday, we received the best news!  My friend's PET scans came back all clear!  I know that our prayers helped him and his family get through this difficult time.
My life is going to have some tough times, but with my belief in Jesus Christ and the power of prayer, I will have strength to help overcome challenges. 
I would like to end with saying thank you.  Thank you to my family, friends, and this congregation for all of your love and support. 
Hello, my name is Margaret Thurman and I just graduated from Salisbury Academy and am going to Salisbury High School.
Everyday and at all times, Jesus is with me….  He is with me through hardships as well as joyous times.  It is through Him that I have learned in whatever situation I am in, to be content. As the Apostle, Paul, stated in Philippians 4: 11-13,
11 I am not saying this because I am in need, for I have learned to be content whatever the circumstances. 12 I know what it is to be in need, and I know what it is to have plenty. I have learned the secret of being content in any and every situation, whether well fed or hungry, whether living in plenty or in want. 13 I can do all this through him who gives me strength.
When I think about Jesus being central in my life, I am reminded of all the ways God is present everyday. One day at school, we had a pop quiz in Science and no one was prepared. We also had an extreme amount of homework that evening. Even though I was stressed and worried, at the end of the night, I turned to God in prayer to give up my worries and stress. It also helped me feel prepared for the day to come. Through that prayer, I started to feel content and at peace.
I have learned that whether win or lose, good or bad, light or dark, rain or shine, from the courage and power I receive through Christ, I am fulfilled. I am content.
Hello, my name is Ellison Frick, I'm fourteen years old, and I'm a rising freshman at Salisbury High School. The past two years of confirmation have been filled with many wonderful experience that have changed my life.
Confirmation brought me closer to God and made my faith stronger. Confirmation taught me more about God which caused my relationship with him to grow stronger. I started to feel God's presence more and more every day. God was not only with me during times of sadness but was also with me during times of happiness. Through confirmation I've had the privilege to learn and understand God on a different level.
One very important thing that confirmation taught me about God, is how God is always with me and close to me. For me, I felt closest to God during times of loss, for example the loss of a close friend and her family. Loosing people you are close to is very challenging, but I was able to get through it with the comfort of God. Although losing people at first makes me question God, I always come back to the realization that God has a bigger purpose for all of us and his intentions are not to hurt us but to love us.
Another time where I've felt the closest to God was during Camp Lutheridge. Every day, we would have a different lesson to focus on which would always relate back to God. Learning about God through these lessons and during vespers really connected me with God in a different way than before. Not only did Lutheridge connect me with God, but it also connected me with people I didn't even know. 
One other important thing that confirmation taught me about God, is that God is willing to make sacrifices, like Jesus dying on the cross, in order to bring people closer together. Learning about all of the sacrifices God has made, through confirmation and Lutheridge, has encouraged me to want to help others more often. The thought of helping others without receiving something in return seems rewarding and satisfying to me, therefore, it makes me want to do things like more volunteering for those who are in need.                                    
Through the years of building a stronger relationship with God, I've learned to appreciate everything God has given me. It was not until confirmation where I really took the time to really think about everything that God has provided me and done for me. God gave me a wonderful family, amazing friends, spectacular opportunities, hope, faith, and so much more. Without confirmation, I never would have truly understood all of God's sacrifices and gifts he has given. I am thankful that over the years my relationship with God has grown into something I never would've imagined.
Hi, my name is Emily Frick. I'm a freshman going into Salisbury High School. God has always been a very essential part of my life, but I found I was really able to see him these last few years of my life. I could sense him during difficult times and knew I could turn to him and pray when I needed to. When I had a big test coming up or a stressful project, I felt God's presence and knew he would help me get through it. However, not every circumstance that brought me closer to God was a happy one.
When I was in 7th grade one of my close friends and her entire family died in a tragic car accident. At the time, I admit I was angry at God. I was angry at him for taking away such an amazing person, a person that spread so much joy and was kind to everyone. A person who was truly created in his image. However, in the midst of the tragedy I turned to God asking him to be there for those who needed it and comfort those who were sad. I asked him to help us remember and cherish this wonderful family and all the good they did. Even though I still don't fully understand the reasoning behind this tragedy, from then on I not only realized God could help me get through anything, but also that God blesses us in different ways than we expect. Instead of choosing to look at this as a depressing time, I choose to see it as a time where my relationships with friends, family, and God became stronger. And also what an amazing opportunity it was to meet such an amazing child of God.
Another time that I felt my relationship with God strengthen was on the trip to Lutheridge. At Lutheridge, I had the opportunity to grow my relationship with God through, morning worships, team building activities, and daily vespers. Throughout the week, I felt that I could truly lean on God and communicate with him like never before. Not only was my relationship with God reinforced, but my friendships were also made stronger. Spending every minute of every day with your friends, worshiping together, and meeting new people really allowed me to see how much I had to be thankful for. The friends I was spending quality time with, the family who was waiting for me at home, and God who I was learning more and more about every day.
Overall, the last 2 years of confirmation have been a fun and exciting time where I can gather with my friends to learn about and worship God. I got to intensify my personal connection with him and learn to cherish a strong, healthy relationship with God. Going into high school I plan to carry with me all that I learned and put my full trust into God. Allowing him to guide me through tough times, while also being thankful for everything I have been blessed with. Thank you for your time.
Hello, my name is Luke Graeber.  I am the son of Charlie and Lori Graeber.  For Confirmation I was asked to write a faith statement about my adventures through faith.  When they told me this I thought to myself this will be a piece of cake!  Boy was I wrong.  I probably sat in my room for 3 or 4 hours or at least it felt that long.   WELL HERE WE GO!
Faith has not always been the most important thing in my life.  In fact, I sometimes would try ways to get out of going to Church or going to confirmation because I just was not interested.  But after going for a while and after listening to the things we talked about and understanding what they were teaching us, I quickly bought into the words they were preaching.
This journey through confirmation has been AMAZING!  I have not only grown closer to GOD but also my Church Family.  You all have been right beside me too give me a helping hand in times of need.  I had so many people show me support at Lutheridge by sending cards with words of encouragement written all over them, telling me to keep moving closer to God and to make the most of my experience at Lutheridge, and I truly believe I did.  Something about Lutheridge just automatically makes you see the good GOD has done in the world and the things he has blessed us with.  The friends you meet there are some I still talk too outside of Lutheridge.  All in all, Lutheridge is one of the best places on EARTH.
Well my confirmation journey is over but my love for GOD is still growing. Thank You to everyone who has supported me throughout this experience.  This is the greatest Church family I could be a part of.
THANK YOU and God Bless you all
Hi, my name is Sascha Medina and I am a 9th grader at Gray Stone. Jesus is central in my life because he is our savior, he is the helper and he is our father. He is our savor because he saves us for the challenges and prepares us a heavenly kingdom. He is the helper because he helps us overcome everything. He is our father because he loves and provides for us more than we know.
An example of him being our savior, helper, and father is when my grandmother got sick. She was diagnosed with two different cancers and our loving father provided hope for my family. He was our helper by working through the doctors who treated her.  He was our savior because he saved us from all changes in this world, preparing us for the heavenly kingdom.
This is not the only example of his love, but it is one that has touched me the most. These three things are what I believe Jesus is to me. he is my father, my helper, my savior.
Thank you!
Hi, my name is Sydney Hlavacek, and I am a rising freshman at Salisbury High School. I always knew that I was going to have to write a Faith Statement, I just had never really thought about it.  I learned very quickly that it is not an easy thing to do.  The first thing that came to my mind was Lutheridge.
Now, before I start, I just want to say that I was not a big fan of going to camp and learning about things that I thought I had already knew about God. But when I came home, I learned that I still had a lot to learn.  So while I was at Lutheridge, I never had one really big moment where I felt God, but instead lots of little moments where I felt his presence. Through the songs, campfirmation, vespers, the amazing kids and staff, and many more. Since I was having constant feelings where God was with me, it was hard to write about just one. There were times where we would break into small groups, and I had the privilege of getting paired with Mr. Jeff Taylor from Christ South, along with other kids from different churches.  This was one of my favorite times of the day.  The things that we talked about and the activities we did really meant a lot to me.  One of my favorites was when we all spread out and just sat in silence trying to feel the presence of God and just listening to the amazing world he gave us. I felt Him there through the sounds of the winds and bugs, and the birds and sounds of cars, and just all around me. Another one of my favorites was on the last day. Mr. Taylor gave us a band aid. On it we wrote our prayers.  Then, we put it on the back of our hand horizontally. We were all confused after we did this, but when we went inside, he gave us another band aid that had a heart drawn on it with a marker. Mr. Taylor put it on top of the band aid with our prayers, but this time he did it vertically.   At that moment we all realized what we were doing.  The band aids formed a cross on our hand.  After that, he took some oil, and formed a cross on our forehead. He told us that Christ is always there for us. To me, this shows that no matter how big or small the problems are on your shoulders, God helps you get through them and experiences them with you.  
What I took away from Lutheridge was that no matter how often or how little, how big or how small you have seen God in your life, he is always there.  Genesis 28:15 states "I am with you and will watch over you wherever you go, and I will bring you back to this land. I will not leave you until I have done what I have promised". This is the perfect verse to show how God is and wants to be in your life. 
From these experiences at Lutheridge, my faith through Christ has grown magnificently.  I hope to continue the journey with my family and friends, and I pray that God can bless each and every one of you. Thank you.