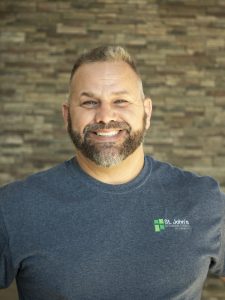 By Susan Shinn Turner
Jon Koppe, facilities manager at St. John's for nearly six years, ended his service in November. He's moving to Raleigh to be with his wife, Jenni, who's been a realtor there for 25 years.
"It's tough to leave something you love so much," Jon says.
When Jon came to St. John's, he was newly divorced. He later reconnected with a woman he dated in high school.
"We just started talking and then dating," he says.
The couple married in April. Together, they share four children and one granddaughter.
"The plan was that I would move to Raleigh once we got married," Jon says.
They've had a commuter marriage since, which hasn't been ideal, he admits. "We missed each other and we wanted to live together. I started putting out job applications."
It was still a tough decision, he says. "I love St. John's. It's been a real blessing to be able to work here."
Jon has accepted a position as maintenance director at a 177-room retirement facility in Cary. It offers weekly devotions for staff, "one of the things I really cherished about St. John's," he says.
He wanted a better work environment when he came to St. John's, he says, and he found it. "I could walk in the sanctuary anytime during the day and pray. It helped bring God back into my life.
"I can't say enough about the job, the people, and the place."
"When Jon and Jenni married last spring, we knew that he would eventually transition to Raleigh, where Jenni is firmly involved in her real estate business," Pastor Rhodes says. "It's hardly fair for us to chain him to his desk — although we thought about it! Instead, we offer him our very best as they begin this new chapter in life. Jon has been a good friend, a wonderful colleague, and a faithful employee. Thank you, Jon!"