A Conversation About Stewardship
By Susan Shinn Turner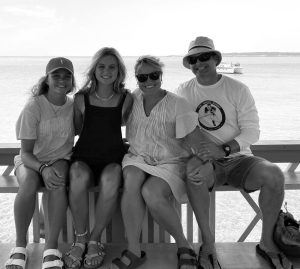 If you've ever heard Pastor Rhodes Woolly speak about stewardship, he often tells this story.
In the early days of his marriage to Krista, Rhodes was in seminary and they only had one full-time income.
When stewardship season came around, he told his father, Pastor Don Woolly, "Dad, we can't afford to tithe."
His father responded, "Son, you can't afford not to."
So Rhodes and Krista have made tithing part of their rhythm of giving ever since, as have the two couples we interviewed for this story on stewardship: Franco and Brenda Goodman, and Bryan and Mary Wymbs.
"Stewardship is an important part of discipleship," Pastor Rhodes notes. "In the first pages of scripture, we are invited to partner with God in caring for God's creation —something we do with our time, talent, and resources. But stewardship doesn't come naturally for lots of Christians and, for some, the topic is taboo. Thanks so much to the Goodmans and Wymbs for their willingness to chat about such an important topic, and for being models in good stewardship."
Here's the Q&A with the two couples.
Susan Shinn Turner: How long have you been members of St. John's?
Mary Wymbs: We joined 17 years ago, one year before Millie was born. I grew up Methodist and Bryan was unchurched. We wanted to start a family. St. John's was the first place we went, and we loved it.
The Wymbs have two daughters. Millie, 16, serves on the Call Committee for the associate pastor and has been nominated as the youth representative to our Congregation Council. Along with Millie, Cora, 14, is an active member of the youth group. Both girls have helped with VBS.
Franco Goodman: Brenda and I have been members of St. John's for 40+ years. I grew up Methodist only a few blocks up the street from St. John's. I remember congregating with friends at the old service station next to the church. I had good friends who were a part of the youth group here, so when I married a Lutheran, it just seemed natural to join St. John's.
Brenda Goodman: I'm not from Salisbury, so when I saw St. John's I couldn't believe how beautiful it was. Then Franco said it was Lutheran! Eureka!
SST: How do you define stewardship and how has that definition changed over the years?
BW: It's how you care for the resources you've been given. There's a financial component, but there's also your time, and how you give as far as your talents and how you pass it on to your family and friends and the community. It's not just about writing a check or doing a bank draft. It's about connecting with the church in a deeper manner, like spending time mentoring and being mentored. That, to me, is all connected to stewardship.
FG: Bryan and Mary are great examples of what it takes to be totally committed.
Stewardship is responsible management of God's resources that we have been blessed to have. We're here to be stewards of that.
BG: To me, stewardship is more than just an old term. To me, stewardship means to support what you believe in spiritually and within the edicts of the Lutheran Church, and what you support spiritually within the scope of goodness for your fellow man.
SST: Were you taught the importance of giving or did you learn it on your own? If you were taught, who taught you and what difference did it make?
FG: I was taught by example. My mother and dad, the late Myron and Madeline Goodman, were very faithful in the church. Wilson Smith and Burt Harris were mentors for me. I watched and observed that generation, and saw how easy it was to give back.
Brenda says she first heard about giving when her pastor talked about it from the pulpit.
MW: My parents were faithful givers. I remember watching my mom write a check every single Sunday and rip it out of the register during the sermon. What a memory! And they'd always double up if they missed a service. I feel so connected through giving.
A good example is the recent Child Development Center's Outdoor Learning Environment. What a great example of so many people contributing and feeling connected to such an important mission. A lot of people coming together to make something special happen.
BW: I learned so much more about stewardship when I got involved with St. John's. I saw it as central to life of St. John's. We immediately got involved in a small group. And the thing is: when you give, you receive. It's such a joy to see the results of the contributions we've made as a family. You're part of a team.
SST: How do you make decisions about what organizations to support and how much to give?
MW: Bryan and I sit down together at the beginning of the year and talk about where the biggest needs are for the upcoming year. It changes every year.
BW: We typically support our kids' schools and St. John's.
FG: Brenda and I sit down and try to have an idea on how to help. We support what our four grandchildren are involved in.
SST: Have you ever encouraged others to give? Has that been easy or difficult for you?
Franco has been involved with fundraising for both phases of the G2G Campaign.
FG: Those Phase 1 meetings were some of the best meetings I've ever had. Everyone was so welcoming and eager to help. I wanted people to take ownership of what we were trying to do. The pandemic has limited personal contact for Phase 2. It's not been as easy as the first time, by any stretch of the imagination.
Bryan was on the team who raised money for the OLE.
BW: I was fearful at first. It was awkward. The anticipation is the worst part. But everyone I asked said yes, and they joyfully wanted to be a part of it.
BG: I have encouraged other people to consider what their gifts of money could mean to an organization.
SST: What advice would you give to someone who wants to develop a discipline of giving?
BG: I would suggest to someone who wants to develop a habit of giving to start out small and increase their giving as they go along and as their finances allow.
Educate yourself and find out what the church does every day all year long. Giving to St. John's Lutheran Church is uplifting as this church supports so many people and causes in this community and beyond. I am more than proud to say I am a member of St. John's and that we as a church body support the wellness and goodness of Rowan County. We support social justice. We support healthy life styles. We support our local schools. We support other churches. We support local government. We support people in need.
Anything else you'd like to add?
BW: We feel a real sense of connectedness at St. John's. There was a time when we thought about moving to Charlotte, but we didn't. St. John's was a big part of that decision.