Annual Campaign Begins October 17: Consecration Sunday is November 14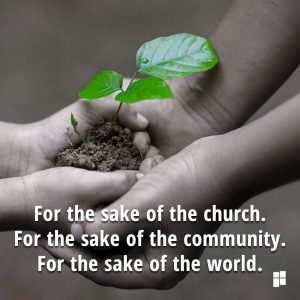 By Pastor Rhodes Woolly
I had lunch last week with Adam Ryerson, our new Troops 443 scoutmaster. Adam and his family are members of St. John's, and he's so eager to fully connect the scout's program/ministry with the wider ministry of the church.
Over the next two days, I had a lunch meeting at Lenoir-Rhyne about their approach to training youth ministers, and then a shrimp boil the next night at Lutheran Theological Southern Seminary in Columbia — an event we co-sponsored to welcome back the seminary's students and faculty.
On my drive back, it occurred to me that a lot of folks are investing a lot of time and energy in the future of the church and our community. What a blessing they are to us.
About that time, I listened to a report about how Walmart and Target have emerged stronger during the pandemic. Their philosophy during the crisis was to invest heavily during these uncertain times, fully aware that some of their investments would be utter failures. They spent an enormous amount of time and resources testing new ideas, rolling out courageous plans, and training leaders in new ways. It paid off.
A good investment. Stewardship campaigns are all about investments. As we kick off this year's Annual Campaign on October 17, we'll be boldly asking you to invest in your church so that we can continue to impact this community in significant ways.
So that we can "Build a better community. Together."
As difficult as Covid has been, it's given us a chance to re-think our approach to children's and youth ministry, engage with community leaders about a more effective partnership with our schools, totally redesign our online presence, and make a firm commitment to forming faithful leaders for the community, our congregation, and the wider church.
All are significant investments in the future of St. John's and our community.
As we kick off this year's Annual Campaign, I hope you'll join us in making an investment in the ministry of St. John's. Now is not the time to take steps backwards, but to courageously step forward in faith, fully aware that God is eager to make us vessels for his glory and purpose in a post-pandemic world.
In advance, thank you for your partnership and commitment. Work in God's garden hasn't been easy these last 19 months, but it sure has been nice to work alongside you and this wonderful congregation. As we step into the future, let's do so with bold enthusiasm and thank-filled praise.
Our very best to you. And thank you.