Carole Parrott to Lead Call Committee for New Associate Pastor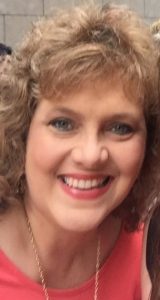 By Susan Shinn Turner
St. John's is in the process of calling a new associate pastor, with Carole Parrott serving as chair of that effort.
Carole and her husband, Jake, served as youth advisors for 10 years while their three younger children, Caroline, Carsyn and Harrison, went through the program. After Carsyn and Harrison graduated, the Parrotts stepped away. The twins are now sophomores at UNC-W.
Carole has served on call committees for two youth ministers — including Danielle DeNise.
"I thought it would be exciting to go through the process for an associate pastor," she says.
When Pastor Rhodes called and asked her to serve on the committee, she said yes immediately.
Then he said, "Now let me ask you another question," and asked her to serve as chair.
"I decided I could do it with Pastor Rhodes' guidance and the guidance from the Synod," Carole says. "I'm really looking forward to it."
At its August meeting, Council formed the other members of the Call Committee: David Hord, Nichole Towns, Kim Lentz, Heather Brady, Millie Wymbs, Jay Dees, and Mimi Carlton.
Carole says she is looking for a pastor who is good with all ages. "We've tried to get a nice, varied, diverse group of people on this committee — all ages, experience levels, and length of membership. I believe we have an excellent team assembled"
Their work begins on Monday, Aug. 30, when they convene for their first meeting. The team will develop a Ministry Site Profile, meet with a Synod representative, and, eventually, interview candidates. Because of the sensitive nature of the work, the Committee won't be able to provide detailed updates, but will certainly keep the congregation abreast of developments.
In the meantime, if you know of a pastoral candidate the committee should consider, let Carole know by emailing her at cyparrott@herffjones.com.