"Made New": Celebrate with Seasons Gifts in August
By Angel Owens
Recently in staff devotions, Pastor Rhodes asked us what it is in our lives that is begin made news. After the last year, there are so many instances of the old being made new and new life forming that we can celebrate around us- from new babies to new staff members (Welcome Ricky and Paula!) to new steps in our faith journeys!
This August, we celebrate in particular monumental milestones in celebrations of new life through births and confirmation! Consider a gift that supports  missions that support the marginalized– giving them a chance at something new!
According to the Center for Disease Control and Prevention, more babies are born in August than any other month.
Milkbarn
When making purchases for the little on e on the way, consider Milkbarn burp cloths and swaddles. They come in the sweetest animal patterns, including bunnies, horses, elephants, and my favorite, lions!
In 2015, Milkbarn formed a partnership with Exile International.
"From the beginning, our hearts longed to help others. We didn't know our path, we didn't know our calling, but we knew we wanted to be used. A simple prayer of "use me, use us" guided our day-to-day actions. In 2008, we heard of the brutal abuse of women and children in the Democratic Republic (DR) of the Congo; our hearts broke. Our finances limited our ability to help, but we gave what we could and we gave from our heart. We had found our purpose.
"Fast forward to 2015 and our paths crossed with Exile International. Their work and their mission aligned with our mission. We knew many spoken and unspoken prayers led us to Exile International and a partnership began. By partnering with Exile International, we bring awareness to this extraordinary organization and we further our purpose of helping the women and children of the DR of the Congo. This very purpose guides us every day."
How does each purchase help? Milkbarn's website has this to say, "Every purchase from Milkbarn directly helps Exile International and the children of war to heal their mind, body, and spirit. Our collaborative efforts allow these recovered children to become leaders of tomorrow in their local communities."
For the expectant or newborn you want to spoil, also consider Cheeky Chompers (woman-owned), Bunnies by the Bay (partners with a myriad of children's charities), or eeBoo (sustainably sourced, woman-owned, etc.).
August is the time for another special milestone.
On Aug. 15, we will also celebrate 15 of our young people as they share their faith journey on Confirmation Sunday.
In Seasons Gifts, you  will find confirmation gifts like picture frames and jewelry.
One of my personal favorite vendors is My Saint My Hero.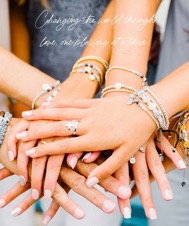 Wearable Blessings
The Mission of "My Saint My Hero" is "to create Wearable Blessings that empower global communities through meaningful work and remind us that we are loved, blessed, and protected."
The company was founded on the belief that God is real, prayer works, love heals and miracles happen. The company was founded with an inspiration to bring the stories of the saint to young people as a reminder that we are all called to be saints.
A word on empowering communities from My Saint My Hero:
"[My Saint My Hero] bracelets  are handwoven in Medjugorie, Bosnia and Herzegovina by artisans who pray as they tie each knot, infusing each piece with love and prayer. This meaningful work helps these artisans rise above poverty through the dignity of their beautiful trade.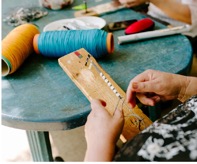 "Several of our pieces are beaded in Cambodia by girls and women rescued from trafficking. Your purchase helps restore dignity and combat human trafficking through  empowerment, advocacy, and prevention programs… one bracelet at a time.
"A number of our Wearable Blessings are made by workers in Mexico. Because of you, they have the opportunity to earn a living and alleviate the daily struggle to make ends meet."
This August, shop with a mission. Shop Seasons Gifts.