Worship + Technology @ St. John's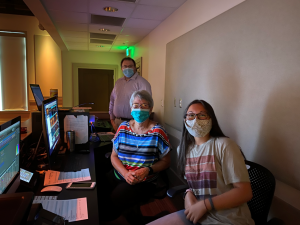 By Susan Shinn Turner
Every time you pull up the livestream broadcast for the St. John's 11 am service, or listen to a podcast, or watch a FaithLife video, you can thank the St. John's Technology Ministry Team.
"Through this whole pandemic, we've been able to create more ministry opportunities," says Taylor Hutchins, who leads the team, and who went full-time with St. John's during COVID. "We've added volunteers to work graphics, camera, sound and lights for our 11 am service."
Although the 11 am service represents the flagship efforts of the team, Taylor also leads the volunteers who provide sound, media and lighting for the 9:27 service.
"That need will grow when we get camera equipment in that space," he notes.
There are basically two approaches to cameras, Taylor explains — manned cameras, and robotic cameras, such as the ones in place in the sanctuary. The Faith Center originally had cameras in its plans when it was completed in 2015, but the cost of $55,000 was eventually cut.
"Those can be replaced with robotic cameras," Taylor says, "and that technology has developed over time. The robotic camera doesn't take up as much space, and it's much less invasive in the worship spaces."
Taylor notes that the cameras in place in the sanctuary have to be good in low-light situations depending on what type of service is taking place.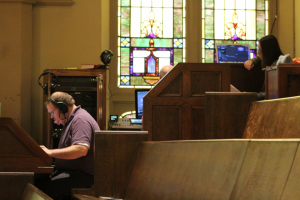 St. John's started streaming its 11 am service in November 2018, and purchased new cameras during Holy Week 2019. In March 2020, the Technology Ministry Team started producing pre-recorded services during the pandemic. The services were filmed in the sanctuary because the cameras were already set up.
Videos can be shot with different levels of quality, and Taylor says he always shoots higher quality than he needs to. Congregation members look forward to each upcoming Sunday service's "trailer" (or preview), shot by either Pastor Rhodes or Pastor Laura via iPhone.
"We've learned things along the way," Taylor admits. "We've definitely had to tweak as we go. We were ahead of the curve going into the pandemic, but we had to find out what worked best for us."
You can access videos of previous services on the St. John's website or its YouTube channel. WSAT, the local radio station, still broadcasts the previous week's service each Sunday at 10 am. You can also watch the previous Sunday sermon each Monday in the FaithLife email. Taylor also produces the monthly "Conversations that Matter" podcast with Pastor Rhodes.
"The beauty of online is that people aren't tied down to a certain time," Taylor points out. "They can watch anytime. It's not anything like being here, but it's as close as we can get."
Taylor hopes to add more cameras in the main sanctuary as well as cameras in the fellowship hall to capture teleconferencing capabilities — all the while keeping prices down for the G2G phase 2 project.
"It's something we can all benefit from, and I'm really excited about that," Taylor says of the upgrades.
Away from St. John's, Taylor owns his own company, DKM Media, which provides web design, video productions, drone work, and virtual tours for churches and other non-profit organization.
Of Note: On May 22, 2021, Taylor married Pamela Lopez-Arrendondo of Hickory. Fittingly, they met on e-Harmony.