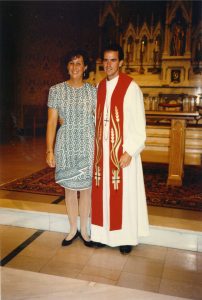 Sisters and Brothers,
Twenty-five years ago (plus one day), at the Virginia Synod Assembly at St. Andrew's Catholic Church in Roanoke, VA, these words were spoken.
"I present for ordination to the ministry of word and sacrament Donald Rhodes Woolly who has been prepared, examined, and approved for this ministry and who has been called by the church to the office of pastor."
If I had to venture a guess, I would say that no one at St. John's was paying attention to what was happening on June 1, 1996 at St. Andrew's Catholic Church. That is how the Holy Spirit works, though. The Holy Spirit was preparing a pastor for this congregation even before you knew to pray for such a thing.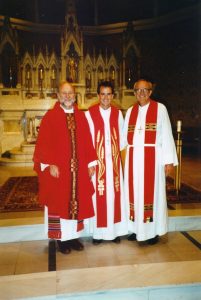 Twenty-five years of service to God's kingdom is a fantastic gift and something to be celebrated. I know we are a day late, but I encourage you to reach out to Pastor Rhodes with a word of encouragement or gratitude for a quarter of a century of humble service. I am confident that God's work through Pastor Rhodes has helped build and shape God's kingdom in incredible ways that we can't even see but also in very visible ways we do see within these walls and this community. I know that I am a better pastor because of him.
I can hear God whispering, "Well done, good and faithful servant. Now, here is to the next 25!"
+Pastor Laura