A Vision for Racial Healing: Reflections from Members of the Drafting Team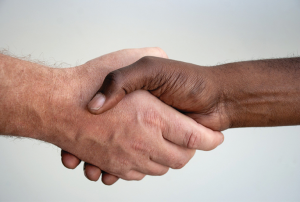 On Feb. 22, St. John's congregation members joined over zoom for a Town Hall Meeting to present our Vision for Racial Healing. Members of the drafting team share reflections.
Reflection from Marian Hough:
Over the last several months, I have been working with a team to develop the "Vision for Racial Healing" at St. John's. While serving on this team we have had meaningful discussions about the future of St. John's and how the "Vision for Racial Healing" will be used to guide that future. As a young adult, I hope to see St. John's as a leading part of the community for many years to come. I view this "Vision for Racial Healing" as a hope for our future and recognizing the need for racial healing, justice, and equity in our community.
 I am a public educator here in Rowan County, teaching American and World History. Throughout my work, I have encountered inquisitive students who seek to understand why systemic racism exists, why there are injustices, and why our country and world still face issues of equity. These are not issues of the past, but are issues still faced in today's society. The young people in our community are curious to know how to correct these issues. As an educator, I have to foster a safe space for discussion, empathy, and growth. The "Vision for Racial Healing" is an opportunity for our church to lead in this conversation within our community. Through engaging in this tough conversation with the other team members, I have become a better educator. I am now more prepared to guide my students when they ask about these pieces of "hard history."

Reflection from Caroline Parrott:
When light was shed on recent police brutality incidents in our nation last summer, I felt lost, scared, confused, and full of questions. Where was God in all of this? How could I use my voice and privilege to stand up for others? A few weeks later, I received a call from Pastor Rhodes asking about my thoughts and ideas for how St. John's could respond to the events–I didn't have an answer, but I told him I would be happy to help. I didn't know how to use my own voice, let alone speak on behalf of an entire congregation…but from that very first Zoom call with Pastor Rhodes, Ted Goins, and Evelyn Medina, I could sense that something good was brewing in our church, and I began to find my voice.
 In meeting with the team and simultaneously reading "Dear Church" by Lenny Duncan, I learned so much about the troubled history of our church and world. Throughout this drafting process, I have been inspired by all of my fellow congregation members to speak up for others, actively listen to all, and work to bring God's vision for peace and justice to our earth. I know that St. John's "Vision for Racial Healing" document will be a guiding light as we put our words into action to build bridges and begin the healing process in our society from centuries of racism. I am confident that St. John's will be a leader in our community to promote this equity and justice because I know that it is God's vision for us to do good, seek justice, and correct oppression (Isaiah 1:17).
 Since graduating from college in May of 2020, I have taken on a role at the Community Care Clinic here in town — this is a free clinic for uninsured patients in our community. I have seen firsthand the effects of systemic racism in marginalized communities. I have also seen how the pandemic has disproportionately affected our brothers and sisters of color. It is my hope that this document will be a spark that lights the fire of lifting up our communities of color to bring an end to the injustices in our world.
CLICK HERE to read our Vision for Racial Healing online.