Our Vision for Racial Healing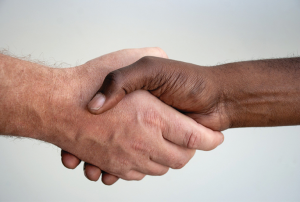 By Susan Shinn Turner
At its January meeting, St. John's Congregation Council unanimously approved the Vision for Racial Healing.
"It is everything you would expect it to be," Pastor Rhodes says. "It lays out how we will deal with handling racial healing, how we engage with the community, how we prioritize things in our own ministries. It states very clearly that racism is a sin — so what are we going to do about it?"
At the heart of the Vision is "Our Hope." It reads:
"Our Vision for Racial Healing is to be highly deliberate in building and fostering a beloved community. This commitment to community is summarized by one of the simplest verses in the Bible, "love your neighbor" (Mark 23:31). As a beloved community, we will walk alongside our neighbors in Christ to strive for peace, justice, and equality for all, especially those harmed by racism. We pray that our commitments, rooted in love, will assist in the dismantling of discrimination and racism while promoting unity within our communities and beyond."
The statement is rooted in part in the events of spring 2020 — the death of George Floyd, along with protests and riots that took place throughout the summer.
"It was a challenging summer, no doubt," Pastor Rhodes says. "We realized we needed to think more deeply about what was going on. How are we going to be a player/agent in dismantling racism?"
During the summer and fall, a committee began to draft such a vision, "a vision for a church that happens to be in Downtown Salisbury, North Carolina."
Some 130 members completed a survey, with 80 participating in a town hall meeting "to dive deeper into what our vision should be," Pastor Rhodes says.
But, he adds, "We still needed a response from our younger audience, so we convened a group of 20- to 30-year-olds and a group of 30- to 40-year-olds. We also pulled a writing team together to write the vision. I had no preconceived notions or statements about what it should look like. I was really confident the Holy Spirit would lead us in the right direction, and that's what happened."
Along with Pastor Rhodes, members of the team were Ted Goins, Marian Hough, Evelyn Medina, Caroline Parrott, and Mark Ritchie.
"Every generation seems to complain about their youth," Goins says. "But our future is secure. It was a pleasure to work with Caroline and Marian. They led. They are not only tech savvy, but they jumped right in to lead the effort, and with passion."
"It has been a wonderful opportunity to work with these great minds drafting a vision for St. John's," Hough says. "Our group had a wide range of ages, which brought many perspectives and different life experiences into the discussion. As a young adult, I hope to see St. John's being part of the community for many years to come. I view this Vision for Racial Healing as a hope for our future and recognizing the need for racial healing, justice, and equity in our community."
"I am so thankful to have had the opportunity to be engaged in this way at such an important time in our country," Parrott says. " I am happy and proud to have this church family to lean on in times of unrest and uncertainty. I am also thankful for my peers and fellow congregation members who have worked tirelessly to encourage this integral work in our church and community. They all helped me find my voice (and showed me how to use it productively!) in the midst of these unsettling times."
Click Here to read the Vision for Racial Healing.