Our Latest "Conversations that Matter": Podcast Pastor Rhodes Interviews Pastor Munther Isaac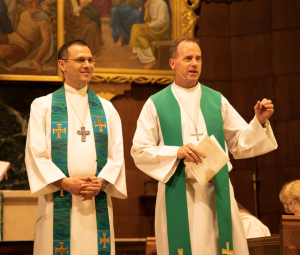 Have you subscribed to the St. John's "Conversations that Matter" podcast ?
In December, Pastor Rhodes interviews the Rev. Dr. Munther Isaac, pastor of our sister congregation, Christmas Lutheran Church in Bethlehem. Pastor Isaac will share intimate details about life in Bethlehem during the pandemic, now that for the first time tourism and holiday gatherings/rituals have all been cancelled … in the town of Jesus' birth.
Listen to the full conversation by searching "Conversations that Matter" on Apple Podcast, iHeart Radio, Spotify and more.
You can also catch up on past sermons on the SJLC Sermon Podcast Channel. Search "SJLC," and don't forget to rate and subscribe!