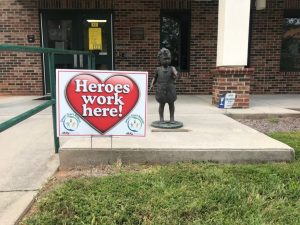 By Barbara Jo Corriher
Heroes work here! Yes, they most certainly do! St. John's congregation and our surrounding community are fortunate that St. John's CDC never closed their doors even during these extremely challenging times.
In March, the decision was made to continue operating. Staff was reduced to lead teachers and administrators only. The state mandated for a period of time that only children of essential workers could attend. A staff of 35 dropped to 15. There were no assistants or floaters.
How did our center make this new normal work? The core teachers were dedicated, flexible and there was no teacher turnover. They worked wherever they were needed. Instead of teaching 4-year-olds, they may have been in the infant room. Each of them did what was asked of them. It was stressful, but they have made it through by adjusting and remaining adaptable.
What do our numbers look like now? Later, all the children were allowed to return. Currently our CDC is back up to 28 staff members and 125 students. Prior to COVID, there were 35 staff members and 180 students.
The staff is required to wear a mask or a shield. United Way, the state and others donated masks. Pastor Rhodes is working towards supplying all the CDC employees with a mask that bears the St. John's logo.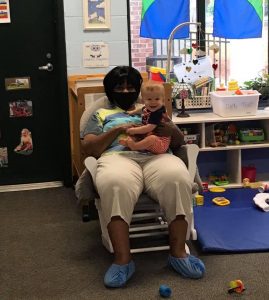 What happens if a staff member or a child becomes sick with COVID 19?  If this happens, and it has, our administrative team works with Rowan County's Health Department, following their instructions while being transparent with the parents.
How were we able to remain afloat financially? The state has been very beneficial making sure child development centers could continue to operate. They provided shipments of masks, bleach, paper towels, no touch thermometers, hand sanitizer… NC continued to pay DSS payments based on the number of DSS children attending our center in February.  DSS parent fees were paid as well for 5 months, April –August. Parents are now responsible again. As of Sept. 1, DSS payments are returning back to normal. Teachers, who were continuing to work, were provided state bonuses twice.  Operational money was also awarded to our center. The church closed one side of the building to decrease expenses.
Thank you heroes for all you have done for the children, their families, our church and our surrounding community. We are so grateful! Keep up the good work!