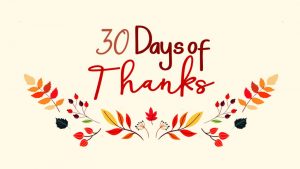 By Susan Shinn Turner
As leaves fall and trick-or-treaters grab the last pieces of Halloween candy, sights are set on family gatherings, pumpkin pie, stories of "Pilgrims and Indians," abundant feasts …
And giving thanks.
"Many of us are ready to say goodbye to 2020," says Pastor Rhodes, "but even in a year like this one, there's a lot to be thankful for. So our hope is that we'll spend the 30 days of November focusing on the blessings, not the challenges of this past year."
Everyone in our congregation, school, and community will have a chance to do just that. Throughout the month, we'll post daily reminders, hints and suggestions for how to give thanks with voices and hands. We'll post to social media, send daily email blasts, and offer reminders in worship.
"We hope to share these 30 Days of Thanks with as many people as we can," says Angel Owens, who has been developing the theme.
Our kingdom kids and CDC will share videos about what they're thankful for. Likewise, middle-schoolers and high-schoolers are creating their own unique social media clips.
Throughout the month there will be opportunities to engage and practice thankfulness in ministry groups,  interactive social media, and a 30 day checklist. Click here to view the calendar online.
"We want to encourage families to take part in the checklist together and share on social media. Just tag St. John's, @stjsalisbury, along the way," says Angel.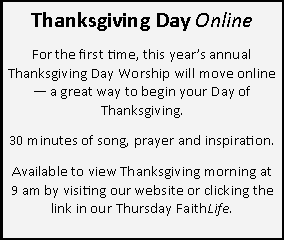 "In so many ways, it feels like we're apart. I can't think of a better way to be 'together' than by joining with my sisters and brothers and exchanging the same acts of thankfulness on the same day."
The Bible certainly agrees, with the concept of thanks appearing 102 times in the Old Testament alone, like this beautiful passage from 1 Chronicles:
"Sing to the Lord, all the earth. Tell of his salvation from day to day. Declare his glory among the nations, his marvelous works among all the peoples. For great is the Lord, and greatly to be praised." 1 Chronicles 16:23-25.
These 30 Days of Thanks will be a beautiful reminder of how blessed we are to be claimed as the children of God. Join us!