In Mom's Memory: Lorna Reasor's Family Makes Gift to Benefit Children of the CDC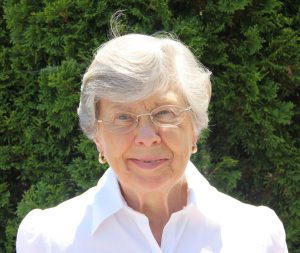 By Susan Shinn Turner
Lorna Reasor may have been an octogenarian, but there weren't many age groups at St. John's she wasn't involved in.
She was a passionate member of the Rainbow Makers group that serves the Child Development Center. She attended a morning women's Bible study once a week at Panera. She hosted The Next Chapter small group for lunch at her home once a month.
So her death on July 11 leaves a void in many areas of congregational life.
"Lorna's care for others was beyond anything I've ever seen. She invested so much of herself in people without ever seeking credit or acknowledgment. What an inspiration she was," says Pastor Rhodes.
In her memory, her four children have made a gift to St. John's of $100,000 to the G2G Phase 2 campaign. They are Clayton Reasor of New Mexico, Claudia Callivas of Pawley's Island, S.C., Lydia Dayton of Davidson and Todd Reasor of California.
"In her will," Dayton explains, "she had divided her estate equally among the four siblings. But we were in a position where we felt we wanted to give to churches she'd been a part of that were a huge part of her life."
Those include St. John's as well as Redeemer Lutheran Church in Atlanta, the city from which Reasor and her husband, the late George Reasor, moved when they came to Salisbury in 2009. Her husband, who had Parkinson's disease, died a year later.
"The Lutheran Home had fantastic reviews," Dayton says, "and Bill Johnson was a godsend with my dad. Right away, my mom was spending five days a week with my dad, and looking for a big Lutheran Church. She was drawn to St. John's. She decided that's where she wanted to be.
At St. John's, Dayton says, her mom "was able to stay busy, and she was happiest busy."
She also continued to volunteer at Trinity Oaks after her husband died.
Of the gift, Dayton says, "we siblings decided it was something she would have liked to have done, so we did if for her."
Pastor Rhodes sent schematics of the new outdoor play area and of the CDC. The play area needs a new fence, and the facility desperately needs a new kitchen, according to Ruth Ann Diehl, business manager.
"She adored the kids there, so that's where we would like to put the money," Dayton says.
Reasor also loved hosting the Next Chapter small group each month at her home for lunch, her daughter says. "It was a very uplifting group that was so close and devoted to each other."
While some small groups break for the summer, that one did not, Dayton says. "They've all been wonderful. They've all reached out. And we've given them things of my mother's to remember her by."
Besides her four children, Reasor also had six grandchildren (one deceased), and two great-granddaughters. She was also godmother to Dayton's youngest daughter.
Of his mother, Clayton Reasor wrote, "I identify with the idea of sharing God's love and compassion, and my mom was a living example of that to me. I was lucky to have Lorna Reasor as my mom. She always found peace and love in the services and St. John's and in service to her Lord."
"Lorna was a pure soul," Pastor Laura says. "She always was willing to help with anything. Lorna wanted to draw people in, to make them feel loved, appreciated, and seen. She was such a gift to this community and will be missed."
Reasor will be buried in Missouri on her family farm in the spring of 2021.