Tonya German, Principal of East Rowan High School, on Connecting Faith and Life During this New School Year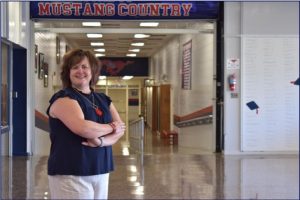 By Susan Shinn Turner
Tonya German had a smile on her face Aug. 17, the first day of school. "It was a great, smooth start," says German, the principal of East Rowan High School. "Just different."
By different, she means that 385 students attend school on A day, two days a week, and 385 attend on B day. The other three days a week, they are virtual learners. Meanwhile, more than 250 students have chosen to take all classes virtually.
"When we left in March, we had to turn on a dime to make it happen," German explains. "Now you're managing students who are virtual, and those who are face-to-face two days a week, then virtual the other three days. We are still building relationships and making connections. Let's get connected and learn to operate, with safety first."
This is German's 23rd year in education. She received a biology degree from Appalachian State and taught for 13 years, with stints at Vance High School in Charlotte, South Rowan High School, and Mount Pleasant High School. She was a science specialist for three years at Horizons Unlimited.
"I really loved my job at Horizons," she notes, "but I really missed being in a school, working directly with the same set of students and teachers. That's why I was inspired to go into administration. I just felt there was a piece missing."
German also has a master's degree in curriculum and instruction from the University of North Carolina at Charlotte, and a master's degree in school administration from ASU.
She served as an assistant principal at Knox Middle School and as principal at Corriher-Lipe Middle School before taking the helm at East four years ago.
"I wasn't quite finished with my administration degree when Pastor Rhodes told me, 'Knox is looking for an assistant principal. Have you thought about it?'" German says. "We were on a mission trip to New York City and I was around the kids for a whole week. I decided to turn in my resume and see what would happen. You've got to have courage to take that step."
Since this is her fourth year at East, the seniors who are graduating were her first group of freshmen, she notes.
On her faith. German says she prays for guidance before entering the building each morning. "I do think people are able to see my faith in my work," she says. "I'm trying to do what's best to lead students to success. They test me all the time, just like we get tested in our faith; but I too respond with love."
She laughs, "People say there's no God in schools. Yeah, there is. I feel his presence all the time."
Away from school, German enjoys being with her family and extended family, many of whom are also St. John's members.
"One way I balance my life as a principal is that I know on Sundays that's the time I commit to going to church and going to lunch with my family," she says. "About 20 of us gather for lunch at my grandmother's house."
German and her husband, Daniel, have two daughters, Caylynn Westberg, 21, a senior at the University of North Carolina at Asheville, and Bella, 11, a sixth-grader at Erwin Middle School.
"I went into education because I had teachers who pushed me to do my best," German says, "and because I saw what a difference education can make in one's life. It can be a game changer for you — and nobody can take it away from you."