A Vision for Racial Justice: A congregation-wide effort to develop a vision and a plan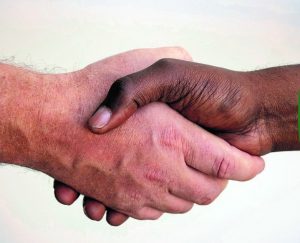 By Pastor Rhodes Woolly
We're in a most unusual time in our country's history, facing three major stress points at once: a pandemic, collapsing economy, and widespread protests and riots mostly focused on race and racial disparities.
And it's been hard to have civil conversation about any of it. As a country we're polarized, frustrated, and it seems we've turned everything into a political chess match, especially in the midst of more shootings, protests, and riots throughout the summer.
How should we respond as a faith community? Where can you ever talk about issues like these? Since 2016, we've been saying that the CHURCH is the best place for that kind of conversation – where people of many different backgrounds should be able to find a safe place for honest conversation, where we can respect each other and listen carefully to each other's opinions and ideas. Where we can begin from a place of peace, not anger. Love, not hate. Where we can learn together. Grow together.
It's important to note that the Bible never shies away from difficult conversation, especially when the issues have anything to do with mercy and justice. That's why we've chosen to talk openly and honestly about race. In particular, we want to focus on one question: What is our vision for racial justice at St. John's? In other words, as we look into the future – say 5, 10 years down the road — what do we want St. John's to look like when it comes to race and racial justice? What do we want this congregation to care about? What do we want to be a part of?
I know it feels like a political conversation, but it's not. Neither is it a competition over who's right and wrong. After all, no one person has all the answers. We're wanting to learn from each other and ultimately find places of consensus where all of us can agree, saying "Yea, that's where St. John's needs to be in the future."
But, as Stan Jordan rightly said last week, "We have to make sure everyone is unconditionally accepted into the conversation. Hearing all voices is crucial."
Please, if you don't feel that you're welcomed into the conversation, please let me know. I'd love to sit down and learn from you. It's our absolute best way to develop a Vision that everyone can embrace.
---
Next Steps
Our next step is to gather all of the information from the survey and Town Hall to form a draft Vision for Racial Justice. We'll make the draft available for review and gather again for more input. There's no timeline, only a sincere desire to develop a Vision that guides us along the path God has chosen. Join us!