"Dipping our toes back in the waters of live worship" A Look at Re– Gathering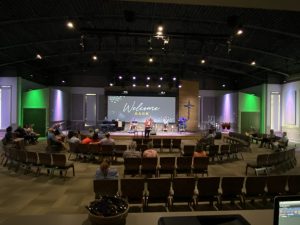 By Susan Shinn Turner
As St. John's slowly reopens its doors this summer, here are some of the many activities from which we can choose to be of good courage together.
"We're used to big church activities at St. John's, but now we're thinking small," says Pastor Laura Henrik. "We're looking at how to have meaningful ministry with small groups of people."
"It's not just the Sunday aspect, but day-in-and-day-out," she says. "Pastor Rhodes and I have been reflecting on our own youth experiences, and they were just as powerful and meaningful as the big experiences we've had here. It's exciting to think about it that way, because that's what ministry will look like this next year."
Including worship. On June 21, the 9:27 service reopened to good response. "It's like dipping our toes back in the waters of live worship," says Pastor Rhodes. Attendance averages less than 50, which is what organizers expected.
With the tagline "a smaller, gentler service," the worship team has tried to create a living room feel to the worship space. "We're honoring strict health protocols, but we really want the space to feel comfortable, not restrictive."
"It's been nice to be back with people," Laura says. "You don't know how good it feels to preach to people versus a camera. It still has that intimate feeling but it's still worshipful."
"I'm thrilled to be back," says Cheryl Sjoblom. "It's gone really well. Everyone comes in smiling with their masks on."
A new mid-week service. You might also have noticed that a simple mid-week communion service began on July 22 at 12:15 pm in the chapel. The 30-minute service continues every Wednesday at 12:15 pm, honoring strict health and social distancing protocols, says Rob Durocher.
"To ensure your safety, we are adhering to best practices and guidelines. Space will be limited due to social distancing, and face masks will be necessary. Face masks will be available if you should need one. We ask that you enter by way of the breezeway where you'll be greeted and guided to a seat."
The service includes a simple liturgy, a 5-minute reflection from one of our pastors, special music, and the distribution of holy communion.
---
Worship at St. John's
Sundays at 11 am:Broadcast online from the sanctuary by visiting our website, Facebook, or YouTube channel. Search "SJLC"
Sundays at 9:27 am: In-person worship in the Faith Center. A gentle, 45-minute service led by our worship team. Thanks for wearing masks. More details on our website.
Wednesdays 12:15 pm: Our mid-week communion service in the Chapel. Strict health protocols are followed.