The God, Who Sculpted the Mountains, is Strong Enough
Dear friends,
Two weeks ago, Carter, Matt, and I enjoyed a week of hiking in Colorado. They had never been to the state and, well, why not take advantage of an incredible opportunity. So we rented a van and off we went.
5,200 miles later, we're back. What a trip.
On a Thursday, we hiked up the Midland mountain range in Buena Vista, right along the beautiful Arkansas River and nestled between the 14,000' Collegiate peaks and the Front Range of Colorado. It was a crystal clear day with super low humidity.
These are no Blue Ridge mountains — i.e., very few trees — which meant that we could see for miles and miles from nearly every resting spot. The mountains' crevices and dimples were in full view, as was the entire geological landscape of the vast Upper Arkansas River Valley that lies between the Collegiates and the Front Range. One could almost imagine the hand of God pinching the mountains into shape and tracing a river into the ground.
The Psalmist puts God's creative power into perspective: "Before the mountains were brought forth, or ever you had formed the earth and the world, from everlasting to everlasting you are God" (Psalm 90:2).
Hiking in Colorado was so very peaceful … and felt so very normal. Sure, there were a few other hikers on the trails, but for the most part we had no reason to worry about a pandemic, masks, or social distancing. Alone in our rented SUV, we listened to music, old podcasts, and a book on tape (Shout out to John Hart). We talked about everything BUT the pandemic, including more than I'd ever need to know about European soccer leagues and NC State football. We ate food that Krista packed into a big box and passed by iconic places like Beall Street in Memphis, The Ozarks in Arkansas, oil rigs throughout Oklahoma, massive cattle ranches in Texas, and the amazing Red Rocks amphitheater just 30 minutes from downtown Denver.
John Denver debuted "Rocky Mountain High" at Red Rocks in 1973 during the roughest stretch of the Vietnam War, just after the resignation of a vice-president, and the beginnings of Watergate. There were a lot of worries in 1973, but Denver's songs seemed to transcend the moment. Songs like "Sunshine on my Shoulders," "Take me home, Country Roads," "Sweet Surrender," and "Thank God I'm a Country Boy." (Makes you want to pull out that old CD, doesn't it?)
As we drove through Colorado and sang songs at the top of our lungs (Matt and Carter will never admit it), it struck me that I really needed a few moments when I wasn't thinking about a global pandemic. I needed a break. We all do.
In 2 Chronicles is an oft-forgotten prayer that King Jehoshaphat prays before battle. His future is unknown, and the way before him is entirely unpredictable. In the midst of his weariness he prays out loud so that all of Israel can hear: "We do not know what to do, Lord, but our eyes are on you."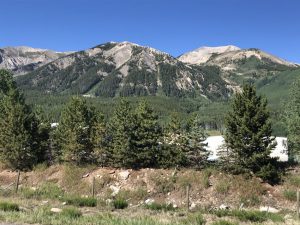 Driving and hiking and camping through Colorado led me to an important discovery about myself. I'm weary these days because I'm feeling rather weak. This pandemic has made me increasingly aware of my limitations, my vulnerability, and my fear. It just has.
But last week's trip returned me to an even more important discovery: that God's strength is perfected in my weakness (2 Corinthians 12:9). The God who sculpted the mountains has said, "I'm strong enough for you." The God who flattened the valleys and formed streams of water into roaring rivers: "Strong enough."
So as I enter into "real life" again, a leader in this remarkable church and community, may I offer the same prayer offered by Jehoshaphat: "May we keep our eyes on you, Lord. For in you is our hope and our strength. Our light and our path.
Peace to you, my friends.
+Pastor Rhodes