Graduation Sunday, August 2, 11 am Online Worship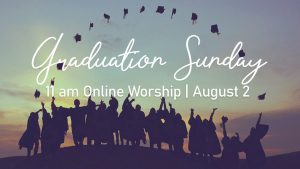 By Susan Shinn Turner
Finally! It's Graduation Sunday for St. John's Class of 2020!
Our congregation's high-school seniors will receive recognition during the 11 am service on Sunday, August 2, wearing their caps and gowns (and masks!), representing nearly every high school in Rowan County.
Annual scholarship recipients also will be announced, according to Pastor Laura Henrik.
"Although the 11:00 service is a virtual worship service, we've made provisions so that our grads can enjoy the honor of walking down the aisle in their caps and gowns," says Pastor Rhodes. "They weren't able to do that in their own schools, so no doubt this will be a special moment for them."
Immediate family members will join the grads in the sanctuary — honoring all safety protocol, of course — while hundreds of others will be cheering online.
"Our seniors have had such a strange final semester in that they've had to miss out on a lot of things," Pastor Laura says. "Our hope is to provide some normalcy and lift them up before the next step, whatever that will look like."
Again, congratulations to:
Claire Allen (Early College), Madison Anderson (Carson), Archie Dees (Salisbury), Caroline Houpe (East Rowan), Julie Kenny (Salisbury), Emma Myers (East Rowan), Calie Proper (Cannon), Hank Robins (Salisbury), Nina Sachse (Graystone), Sydney Sims (Salisbury), Skyler Smith (Carson), Katherine Sullivan (Salisbury), Chad Van der Poel (Salisbury), Anna Grace Woolly (Salisbury), and Mitch Jeter (Cannon).