"Conversations that Matter" Podcast Honors the 50th Anniversary of Ordaining Women in the Lutheran Church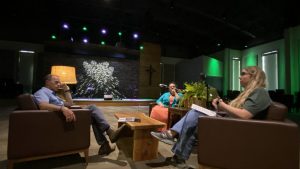 St. John's podcasts are now available on Apple Podcasts, Google Podcasts, and iHeart Radio. Listen to St. John's sermons on the sermon channel, updated weekly. You'll also discover a new podcast called "Conversations that Matter," in  which Pastor Rhodes interviews individuals who have made a significant impact in our community.
"We have some remarkable leaders in our community whose stories need to be heard," says Pastor Rhodes. "We also have some folks doing some really hard, necessary, sometimes controversial work. This podcast is a platform for their voices to be heard."
In July, Pastor Rhodes interviews women-in-ministry, in honor of the 50th anniversary of the ordination of women in the Lutheran church. You'll hear from Pastors Laura Henrik and Danielle DeNise, who have both served as pastors at St. John's.
In August, ELCA Presiding Bishop Elizabeth Eaton joins us in conversation. Eaton is the first female presiding bishop of the ELCA.
New content is uploaded on the first day of every month.
Catch up on last month's podcast, where you'll hear Pastor Rhodes interview Marvin Moore, who was just appointed the new principal of Salisbury High School.
To listen, just search "SJLC" on your preferred podcast platform. Make sure to subscribe!