Pastor Rhodes Earns Doctorate in Ministry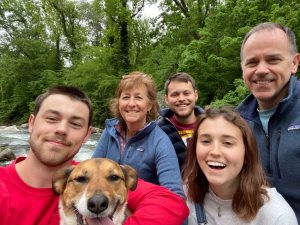 By Susan Shinn Turner
Congratulations to Pastor Rhodes Woolly, who completed a doctorate in ministry this spring from Emory University. This year, he and Krista are also celebrating 25 years in ministry together.
His graduation is the third for the Woolly family during 2020. Anna graduated from Salisbury High School, and Matthew will graduate in December from N.C. State University.
Pastor Rhodes received a degree in political science, economics and German from Lenoir-Rhyne University, followed by a master's in international studies from the University of South Carolina. Even though his father was a pastor, he says, he "put it off for so long."
"Part of me knew that ministry was a safe place," he says, "and I wasn't sure I wanted to choose the safe option."
He adds, "I grew up in the church. I loved church. But it didn't feel like a call to me. I needed to explore something else."
He entered graduate school in 1988, assuming he would end up with a career in foreign service or with an international relief agency. "But those opportunities never presented themselves to me."
Instead he worked as a lobbyist in Washington, advocating on behalf of vocational rehabilitation. Ironically, Krista worked in the same industry — as a counselor with the SC Vocational Rehabilitation Department.
While in Washington, a friend asked Rhodes to speak to a group of high school students who were learning about social justice and advocacy. "Right down my alley," he thought … until the conversation turned to faith. "The second we shifted the conversation from politics to faith, I found my energy."
Soon after, he and Krista made the decision to go to seminary. He left Washington on his birthday, March 30, 1992, the two were married on May 16, and he began a summer Greek class three weeks later. He graduated four years later, and they accepted a call to Bethel Lutheran Church in Winchester, Va., where he served as pastor for 13 years. Pastor Rhodes accepted the call to St. John's in March 2009.
Why a doctorate? And why now?
"Ministry is very time-consuming," he explains, "and if you're not careful, you forgo time spent reading and learning. After 22 years in ministry, I needed a booster shot, and a highly-focused program like this one seemed to make sense. I needed the focused, disciplined opportunity to think critically, to be engaged with new authors and theologians, and walk alongside other pastors who were in similar situations."
Pastor Rhodes started work at Emory in 2017. Over six semesters of study, his 12-person cohort — pastors from 7 different denominations from around the country — focused on the broad category of "community and congregational leadership." They spent significant time assessing themselves as leaders, their communities, and their congregations. There were other courses on worship, the Psalms, and theology, but all were presented through the lens of leadership.
Throughout, cohort members were developing projects that tackled particular leadership needs in their communities. Pastor Rhodes addressed the challenge of preparing early career adults for community and congregational leadership, inviting a group of 8 young adults into an 8 month cohort that included weekly, full group study and 1×1 mentoring with trained mentors.
"It was a group effort," he quickly adds. Sure enough, Pastor Rhodes led the cohort with the help of co-teachers Cyndi Osterhus and Mark Ritchie, and Mike Connor, who trained the vocational mentors.
The pandemic cut the mentoring piece short, but seeds had already been planted, and confidence grew that this program was an effective way to engage and form young adults for Christ-centered leadership.
"We desperately need that kind of leadership in our community and congregations," Pastor Rhodes says. "We need a new generation of leaders who look through the lens of faith and lead with the heart of Christ. This is exciting work."
As for his new degree, Pastor Rhodes says it has helped him to be a better pastor at St. John's and a better community member in Salisbury.
"It was hard to read a chapter or journal article without thinking about our very unique community," he says. "The program has definitely given me a lot more tools in my toolkit, and a lot more focus and energy for our work in Salisbury."