A Plan to Reenter Public Worship: Phased Plan Begins with 9:27 on June 28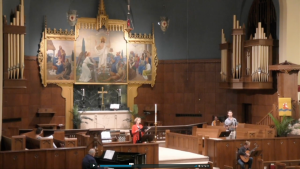 By Pastor Rhodes Woolly
As the Covid-19 pandemic makes its way into summer, Americans are trying to discern best practices for returning to work, play, and, yes, worship. We'd like to share with you our plan for reentering public worship at St. John's.
March 15 was our first fully digital live worship service at St. John's, something we've been able to continue each week since. Because we had over a year of digital worship under our belt, the transition was relatively easy. From an "audience" perspective, you've figured out how to worship in your living rooms, surrounded by distractions and interruptions. Not the "sacred space" we've been used to, but we've made it work. Kudos to you for that!
Throughout, we've longed for the time that we would return to public worship. Please note, we're not saying "return to church." You've been the church all along. We hear story after story of how you have cared for your neighbor, lifted up the lowly, and offered encouragement to the downtrodden. You've been faithful in your stewardship and consistent in your prayers. Thank you for being the church throughout this crisis. And keep it up! … because God needs the church to provide hope and encouragement during these troubled times.
But the question persists: When is the best time to return to public worship? What metrics will we use to discern the "right" date. As we develop a plan, we are particularly sensitive to the following:
What is the advice of our public health officials based on local and state-wide data?
What is the broader advice of medical workers, scientists, the CDC, and others who study the trends for such a virus?
How do we evaluate that advice alongside the growing desire among many (not all, but many) to reenter public worship?
What is our own congregation's unique demographic? Yes, we are blessed with a large number of elderly folks; but we also have a sizeable number of young worshippers who are less-vulnerable to the effects of Covid-19.
What is the recommendation of our Synod and other downtown congregations?
What is the advice of health professionals in our own congregation, those on the front line of work in Rowan County?
Evaluating all of that input isn't easy, but it's necessary if we are to produce a plan that is right for St. John's and holds the trust of our congregation.
In developing this plan to reenter worship, we appealed to several of our medical professionals for their advice. Dr. Chris Agner is a recently retired internist who specialized in infectious diseases. He offered the following thoughts:
"As new information accumulates at a rapid pace, we can now take measured steps toward returning to the intimate group worship experience we all cherish. Despite hopeful reports, the likelihood of a safe and effective vaccine in less than two years is very low and waiting for a vaccine before we return to worship is impractical.
"So then what could be considered? A reopening of the 9:27 service whose attendees are generally in the low risk group would seem to be reasonable assuming those in the high-risk groups or anyone with symptoms self-select to not attend. I would recommend delaying the 8:30 and 11 am services – with, generally speaking, a much older demographic — until the virus has largely cleared the community."
Taking all of these considerations in mind, our worship team offers the following plan for reentering worship at St. John's:
Continue to offer online worship every Sunday at 11 am.
Beginning Sunday, June 28 – the Sunday after the governor's phase 3 order takes affect — offer the 9:27 service in the Faith Center. Details are forthcoming.
On Sunday evening, June 28, offer an outdoor worship event on campus.
Beginning Wednesday, July 1, offer a mid-week service at 12 pm in the Chapel. Masks will be required.
Continue to discern the best date to begin public worship on Sundays at 8:30 and 11 am in the chapel/sanctuary.
A medical team chaired by Dr. Chris Agner and Dr. Neil Patel, ICU chief at the Rowan Medical Center, will recommend best practices for our return to worship.
We are fully aware of the wide variety of opinions regarding a return to public worship.  Our hope is that our members, friends, and the broader community will respect our decision and trust that it is made in the best interest of all.
Of note: All on-campus activities are cancelled through June 27. We will begin opening church facilities in phases for on-campus small group meetings after June 28. Thank you for your faithfulness during these difficult times and for your continued support of our ministry to St. John's.